Donnie Wahlberg on the 'Blue Bloods' Season Finale and Tom Selleck's 'Oddball Jokes'
The season 7 finale of Blue Bloods couldn't be any more topical. A NYPD cop shoots and kills a man of color and the city is on alert when a leaked video seems to reveal the victim had raised hands. The attempted assassination of a police officer follows.
It's a catastrophe waiting to happen, which of course, puts the Reagan family to work: Police Commissioner Frank (Tom Selleck), his cop sons Danny (Donnie Wahlberg) and Jamie (Will Estes) and daughter Assistant District Attorney Erin (Bridget Moynahan).
Wahlberg shares his thoughts on the finale, playing a cop and Selleck's sense of humor.
What's the NYPD's top detective up to in the finale?
Danny's role is to apprehend the cop shooter. It's not really to determine who he thinks is right or wrong. But the conundrum for all of us, cops or not, is that fine line of when something is justified or not. It seems that with every choice that's made in our country nowadays there's collateral damage. This is just one of the most extreme examples of that.
RELATED: How David Ramsey Manages Double Duty on Arrow and Blue Bloods
Danny's a cop's cop, so won't he side with the men and women in blue if there's a question of guilt?
Every cop's desire is to get home safe to his family. What's explored here is when does somebody pose a threat. A cop has been told for years if someone doesn't follow your command and has a weapon in their hand then you have to shoot them. Well, the world is changing now, and that rule may be different and it certainly looks different when you see it on video.
So where does Danny stand?
I think he will always probably lean toward standing by the cops. And if he's wrong, so be it, and if the cop is proven to be wrong, like all the Reagans, he will speak the truth that the cop was wrong. And that's the dynamic of the family, Jamie and Erin are always going to lean toward the side of society, Frank will be more diplomatic—and Danny will lean toward the side of the cops.
How about Linda, his wife, who's a nurse?
It's interesting because for a while, she was always that really perfect cop wife. She stands by her man, no matter what. Her character's evolved, so now, if she thinks Danny's right, she'll be fiercely loyal, and if she thinks he's wrong, she's not afraid to speak up to the whole family.
It sounds like it will be a very interesting Sunday dinner. Do you usually agree with Danny?
Sometimes I do and sometimes I don't. I like when his viewpoints differ from mine because it gets me to consider another side and gives me something to play! I don't want to play myself. I want to play Danny.
RELATED: Tom Selleck and Blue Bloods Costars Dish on Sunday Dinners and the Season 6 Finale
Danny is just the latest of a long line of cops you've played. Has that affected you?
It took all those years playing those roles to prepare for this. The first time I played a cop and shot somebody who survived, the technical advisor said, "OK, now you gotta cuff' em." I was like, "I shot him!" And he said, "What if he's alive, pulls a knife and stabs you in the throat?" I wasn't informed about the continuous threat a cop faces. Now I understand why a cop makes the choices he does.
What do you hear from real life cops?
Most cops in New York and around the country are very grateful for the show. They relate to many of the characters. They say, "I can live a little bit more vicariously through Danny, because I understand sometimes he'll bend the rules in a way that used to not be considered rule bending." And sometimes that way's very effective. But at the same time they can understand if that rule bending goes awry, and causes someone to be killed or injured who didn't deserve it, then they say they'd tend to side with Jamie on that side of the argument. The beauty of the show is we get to examine all sides.
The actors have been arguing at that dinner table like family for six years. How about off-screen?
We don't really argue off screen. So that's the good news. To many actors that might be a surprise, because so many actors are pulling their hair out after only three years on an hour-long drama. But it's typically a nice time to get together. It's much like a family that typically once a week we get together to sit at a table and reconnect. We sometimes talk politics, but we don't really ever fight.
How do you keep it a happy place?
If you put a large group of people at a table and left them there for seven hours doing the same thing over and over again, there's going to be tension. If you start off fun, someone will go too far. We do the opposite. Tom likes to come in, set a serious tone and make the directors consider everyone's point of view verbally and emotionally. I slowly like to lighten the mood and we start having fun as the day goes on.
So you and Tom are on the same page?
Tom and I are complete opposites in how we work, but we both have the same goal. We both work incredibly diligently on trying to make the show as authentic as possible. I may be more fun, laughing and joking with the crew, but when it's go time, I have the same standard as he does.
I hear that Tom can be pretty funny.
He can, yes, usually after he makes sure everyone understands what's important. It would feel like Christmas on a Tuesday night in August when my dad started telling jokes and it's the same thing with Tom, when he starts with his oddball jokes and his weird rhymes that he tells from 1930 that are so funny. Everybody feels so much lighter and happier.
No tour this hiatus with New Kids?
No tour. But there's Wahlbergers and Donnie Loves Jenny.
Blue Bloods, Season Finale, Friday, May 6, 10/9c, CBS.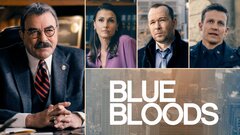 Powered by