Did Gary Just Make a Smart or Stupid Decision on 'A Million Little Things'? (RECAP)
[Warning: The below contains MAJOR spoilers for Season 3, Episode 4 of A Million Little Things, "the talk."]
Things get awkward in the December 17 episode of A Million Little Things, with two talks about sex and two about the past and one helicopter parent (standing in for the person he expects to be just that).
How does Katherine (Grace Park) talk to Eddie (David Giuntoli) about their (lack of a) sex life since his accident? How does Maggie (Allison Miller) handle it when she worries Jamie (Chris Geere) wants more than just casual sex? Can Gary (James Roday Rodriguez) get Darcy (Floriana Lima) to open up about her time in Iraq? Does Regina (Christina Moses) say too much to Shanice (Nikiva Dionne) when discussing Rome's (Romany Malco) past with the actress in his movie?
And what about Sophie (Lizzy Greene), hoping she's about to take a giant step forward towards a career in music only to get knocked down? Is Gary stepping in to take a music teacher (Zoey's Extraordinary Playlist's Andrew Leeds) down a peg the wisest move?
It Wasn't Just a Dream
Darcy dreams of her time serving and yells in her sleep — Chance Hurstfield's Danny, since they're watching the kids while Delilah's in France, even knocks on the door to see if everything's OK — but refuses to talk to Gary about it.
She does share with Eddie during one of his physical therapy sessions that sometimes she still doesn't feel like herself after her time in Iraq, but that's it, even after she yells at Danny for scaring her as part of the "boo!" game he and Gary have going. Darcy just got scared when Danny jumped out and yelled at her, Gary explains to the kid, and that's when people can see her scars.
But Gary wants to help, and when Darcy says she "can't" let him, he steps away and calls his ex-girlfriend. "I need help," he tells Maggie. "I didn't know who else to call."
Is it a smart move for Gary to turn to his ex for help with his girlfriend? Normally, no, but Maggie is a therapist. And after all, as Lima told TV Insider, "it is interesting that Maggie does kind of hold the key to help Darcy down the line" with her PTSD.
Taking Second Chances
In order to get to know Regina ahead of playing her in Rome's movie, Shanice shadows her at the restaurant, but things seemingly take a turn when the chef opens up about her husband's depression and that he's taking medication. Regina thinks the actress quickly left because of what she said, so when Rome meets up with Shanice, he thinks she's about to bow out of the movie … just as he's wondering if he should even be making it.
Instead, Shanice opens up about why she dropped out of her last project: she was hospitalized for depression. She may be playing Regina, "but in real life, I'm Rome," she admits. "I realized there was no way I could really be in this without telling you my truth. This isn't just your story. It's the story of so many people who think they're suffering alone and your movie, our movie will make them realize they're not. So you have to make this. This has to be told. Especially for us."
After that, Rome comes up with a new poster, with the Eddie, Gary, and Rome of the movie in a church pew. (The original, with the tagline "His last step … was their first," had Jon standing on the ledge.) And he's figured out the right tagline: "When life gives a second chance, you have to take it."
The Hard Talk Isn't the One Involving the Kid
Just as Eddie's switching out aspirin with his pills (stop worrying us, Eddie!), Katherine asks him about a search for "big books" on her iPad. But it was their son, so they have to plan to have The Talk with him. "How mad were you when you thought it was me?" Eddie asks, and we can't help but wonder why he feels so comfortable joking about that considering his affair.
But what Katherine really wants to talk to Eddie about is the fact they haven't had sex since his accident. The doctor said he should be fine for that physically, she shares with Carter (Sam Pancake) — isn't he one of the most delightful parts of A Million Little Things? — and the last time he lost interest in her that way was when he cheated with Delilah (Stephanie Szostak). Talk to her husband, her friend suggests.
"As someone who has a deep, deep understanding of a man's body — some say it's been my life's work — this can happen sometimes," Carter explains, sharing that a guy he was dating lost interest in sex for a while after getting his appendix out.
Meanwhile, during physical therapy, Eddie confesses he doesn't feel like himself or the husband he wants to be. "This isn't what Katherine signed up for," he says to Darcy. While his body may never be the same, it doesn't mean their relationship can't be, she points out.
And so after Eddie and Katherine give Theo (Tristan Byon) the very awkward talk, it's time for the couple to get honest with one another. He's not the guy he was their first night together, he says, but she insists she still sees him the exact same way, only she didn't love him then like she does now. While he's a little embarrassed about figuring out how to use his body now and worries it may not be the same, she opens up about how she felt when he moved back in last year. She held off on inviting him back into the bedroom because after his affair, she was scared that he might decide coming back was a mistake. Eddie just has to trust her and they can find their way back once more … and it looks like he does.
Helicopter Gary
Since realizing Harvard's not for her, Sophie's decided to go to the Massachusetts Music Institute, but it's super-selective. So, she hopes that by getting into an intensive music program, she'll have a better shot.
Knowing she's nervous, Gary shows up to watch her audition, and after Peter (Leeds) tells her she "lacked passion," Sophie's uncle steps in. He's not there to convince Peter to let her into the program, Gary explains, just to "remind you you are an adult and there's a nicer way to do what you just did."
Though Sophie's upset he intervened, she is happy that he's around to see her prove herself to Peter later, when the instructor walks by her playing her guitar and singing on the street. (Peter's wife is played by Erin Karpluk, and we have to imagine she'll be back.) While he can't let her into the program (it's already full), he can offer private lessons.
A Solid B+
Maggie gives her and Jamie's night together a B+, but she's not looking for anything serious, she stresses to him after misunderstanding the danish she found on the table. No, it wasn't a sign he wanted more, nor was it even for her, he tells her when they finally sit down to talk. He'd gotten the danish for himself.
Furthermore, he also wants casual sex because he's "done as serious as it gets, and it turns out, it's not for me." He was married, and the ex he's still friendly with (which led to Maggie breaking up his current relationship when she first moved in) is his ex-wife; they share a cat, Puma Thurman.
So no-strings sex is on the table for the future for the roommates. "I'm a very approachable teacher," she calls out as they head to their separate bedrooms for the night. "Come by my office hours next week and we'll see if we can't raise that grade of yours." He's up for the task: "I always was teacher's pet."
A Million Little Things, Thursdays, 10/9c, ABC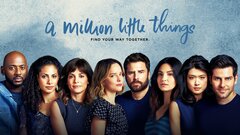 Powered by