'Stranger Things' David Harbour Talks Season 2 and About Being 'That Guy'
Stranger Things' David Harbour sat down for the AOL Build Series on September 14 to discuss Season 2, and we were eager to get some answers about the series seemly everyone was talking about this summer.
He plays Chief Jim Hopper in Netflix's '80s-set series, but Harbour has many other credits to his name, from high profile films like the recent Suicide Squad and Black Mass as well as an 10-episode stint on Aaron Sorkin's The Newsroom.
When Harbour originally landed the Stranger gig he was grateful to be given what is considered the lead male role. "You know I've had one of these careers where I've done a lot of work and you've sort of been 'that guy' from 'that thing.' But being 'that guy' is different for the studio to take a chance on you to sort of be 'the guy.'"
RELATED: Stranger Things (Finally) Gets a Second Season From Netflix
We asked him what it was like to film a show like Stranger Things versus The Newsroom, which wrapped in 2013. "It's very different," he says, "I mean you're still shooting a TV show and there's a lot of things that go into that, but The Newsroom had at its head Aaron Sorkin, who is very accomplished, very smart, has a rhythm that's his rhythm and that he wants you to do … The show was his show. And [Stranger Things] was more of a ragtag band of weirdos. We didn't know if what we were making was good. Ultimately it bred a humbleness before the work and a humbleness before the story."
It was difficult though, because even if he is 'the guy' in Stranger Things, so are his younger castmates. "You work your whole life and you're 41, and you give a performance that you're proud of and these children are like 11 years old, just tearing it up. It's horrible," he jokes.
"That's the one thing I was terrified of," he admits. Because if you're going to have a show that stars kids, "you better get some good actors." He wasn't disappointed when show creators, the Duffer Brothers, sent him their audition tapes. "I was giddy, I was touched and I was laughing."
Harbour was inspired by the pop culture of the '80s, when he was about the same age as the kids on the show. "I saw Raiders of the Lost Ark in the movie theater 13 times," he brags. "There was something about the blockbuster of the that time that really had magic to it, that I feel like we've lost a little bit of, and I don't know why."
His character Chief Hopper definitely fits the '70s and '80s cop trope: his police uniform is the same style as the officers in Spielberg's 1975 classic Jaws, and he says Hopper's catch phrase would be, "mornings are for coffee and contemplation."
RELATED: Stranger Things: A Missing Boy, a Mysterious Girl and Winona Ryder Make For a 'Fun' Thriller
He is excited to get back to work for Season 2. "We're humbled and excited to get to shooting again," he says of himself and the cast.
As for Season 2 scoops he was a little tight-lipped, but when it comes to the waffles Hopper left in the woods at the end of Season 1, "I will tell you that there's no way you could create a character as iconic as Eleven in our show and just kill her at the end of Season 1. You've got to bring her back for something or in some form.'"
He also had a little bit to say about the fate of fan favorite Barb (Shannon Purser), "apparently the creators of the show told me there will be justice for Barb in Season 2. I don't know what that means, but I will disappoint you: I'm sure she's pretty dead."
Season 1 of Stranger Things is available for streaming on Netflix, and Season 2 is set for release in 2017.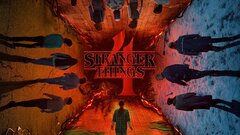 Powered by