Ask Matt: Does 'Mr. Robot' Compute? Plus: Emmys, 'Atlanta', Tony Dovolani's 'DWTS' Break and More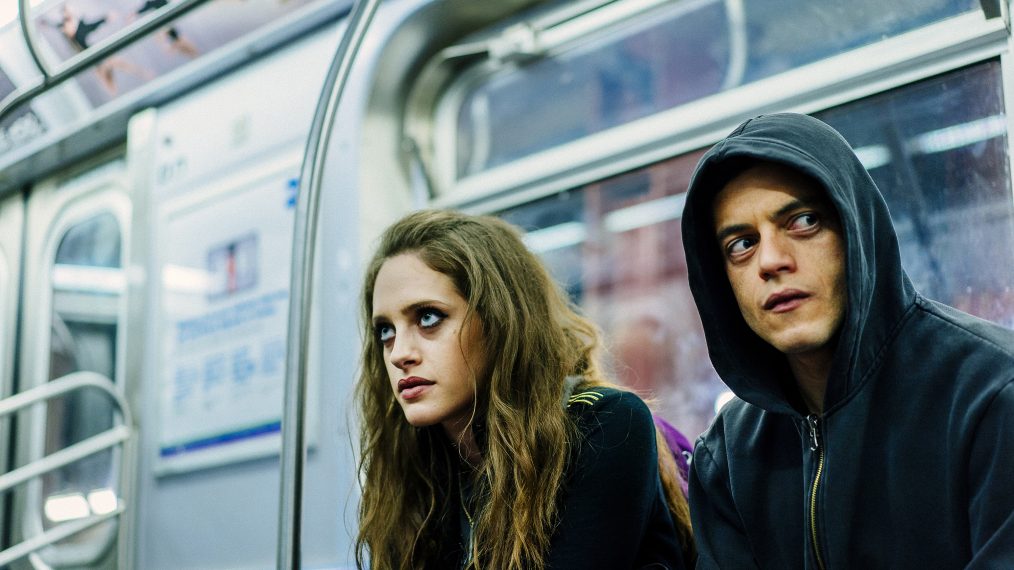 Welcome to the weekly Q&A with TV critic (also known to some TV fans as their "TV therapist") Matt Roush, who'll address whatever you love, loathe, are confused or frustrated or thrilled by in today's vast TV landscape. One caution: This is a spoiler-free zone, so we won't be addressing upcoming storylines here unless it's already common knowledge. Please send your questions and comments to [email protected] (or use the form at the end of the column) and follow me on Twitter.
Question: I really enjoyed the first season of Mr. Robot, but the second season has left me in the dark. I have no idea what they're talking about and quit watching it after three episodes. Am I the only one that feels this way? P.S.: I read your reviews to help me decide which shows to watch, and you rarely let me down. — Stargal
Matt Roush: Thanks for that vote of confidence, and just to be clear, I'll probably never answer a question like this by saying, "Yes, you're the only one." That would be, what's the word, deplorable. This has been a very challenging season of Robot, to be sure, with maybe a few too many tricks up its oblique sleeve. But the rewards in recent episodes have been stimulating, even when controversial (as in the reveal of where Elliot's head, and body, were at for most of the season). Another element at play here is that the first season was so clearly heading toward something: the hack on Evil Corp and the ultimate reveal of who/what Mr. Robot was. This season has been all about aftermath and fallout, some of it very murkily defined and requiring so much attention to detail I once again find myself replaying an episode to figure out what I just saw—and these days, there's precious little time for such an indulgence, given the never-ending TV glut. I still find Mr. Robot to be one of the most interesting and stylish shows out there (and I do mean out there), but I'd be more inclined to think I'm the only one feeling that way, as opposed to your more understandable reaction to a show that requires this much effort.
---
Emmy Trepidation
Question: Do you really think in a presidential election year, viewers will find the Emmys entertaining? I already don't care much about watching shows and stars who aren't that popular win awards, but I especially don't want to hear a bunch of "thank yous" that will no doubt include comments on the election and who we should give our vote. Most of the time the celebs seem to delight in implying their fans are morons if we don't vote the Hollywood way. We already know who host Jimmy Kimmel prefers, so I'm betting there is an onslaught from him all night. Not funny. How can they think any of that is entertaining for us to sit for three hours? I doubt I will be watching much or any of the show for these very reasons.
On another subject: My hubby is finally close to giving up on Suits. Did no one pay any attention when they isolated Ava for a whole season of Justified? We don't care about the characters in jail, why they are there or if Mike is in any danger. Harvey is wasted on his quest to free Mike. Nothing else matters but freeing Mike, which makes us just not care even more. They have become a bunch of lawyers who broke the law but refuse to be take responsibility. The show is so off the rails right now that I'm not sure if it can make a comeback. — Teresa
Matt Roush: First, the Emmys. Which, it should be pointed out, is not a popularity contest, although it's always fair game to lament the tendency of Emmy voters to gravitate to so many of the same shows and stars year after year. But if you're expecting me to be sympathetic to a complaint that we may be rooting for a modestly rated but brilliant series like FX's The Americans to make a good showing against a juggernaut like Game of Thrones (which is very popular, and also unprecedented in epic scope), sorry. If the Emmys are good for anything, it's in rewarding some series that deserve a wider audience, and maybe the overdue attention The Americans is getting will accomplish that. (Now if only they'd ever noticed SundanceTV's Rectify.)
Regarding the likelihood of political commentary in the monologue and the acceptance speeches: What would you expect? To be fair, whichever side you're rooting for (if any), it takes a pretty thick skin to turn on the TV anymore, as the rhetoric has become so ugly and insulting. I hope the Emmys will take most of its shots at the state of TV than the state of the union (or disunion), but it's probably inevitable. And I'm sure you're not alone in being burned out by it all.
RELATED: Matt's Take on This Year's Emmy Nominations
As for Suits, the good news is that Mike is finally out of jail. But it took long enough, and the way that storyline dominated the show for pretty much the entirety of the summer season was not showing Suits off at its best. The death-row subplot for Rachel and Jessica has been a solid B-story, and helps remind us that this is after all a legal drama. But Suits desperately needs to move on and also remind us that it was once entertaining. (I'm kind of hoping the entire firm goes into a new line of work to help reinvent the show, since Mike obviously can't continue as a faux lawyer, but how his re-entry to society plays out remains to be seen.)
---
A Star Dancer Is MIA
Question: Why was Tony Dovolani left out of this season's Dancing With the Stars? I always looked forward to seeing him dance and continued to hope that they would pair him with a star that he could actually win with for a change. Since he has mostly gotten women who get eliminated early in the past, I thought the producers owed him for his patience and was surprised to see that he was left out altogether. – Laura
Matt Roush: This appears to be Tony's decision to take a break, after appearing in 22 consecutive seasons. (And who can blame him? Many have done the same, and on the positive side, another of the originals, Cheryl Burke, is back this fall, along with Derek Hough and Maks Chmerkovskiy.) I only know what Tony posted on Instagram, in which he wrote of spending more time with his dance studios, foundation and family. I'd be surprised if he isn't back in the spring.
---
Tyrant's Abrupt End and Sunday's Fear Factor
Question: Well, another show has apparently bit the dust without an ending. I'm referring to FX's Tyrant. This is continuing to happen to so many series that I think it is time to ask the question if all non-procedural shows should present to networks a specific outline as to where the show is going and how many seasons should be expected. It's a formula that seems to be satisfying for everyone, mostly fans, and as evidenced in successful shows like Breaking Bad and Bates Motel, even though all fans including me wanted more.
On another note: If people are dissatisfied with Fear the Walking Dead, they should switch to an eerier program also on Sundays: The Strain on FX, featuring something Fear currently does not have, which is two great villains in The Master and Eichhorst, which I believe drives all good horror classics. Look no further than their companion The Walking Dead, first with The Governor and now Negan. — JV
Matt Roush: I imagine many Tyrant fans were rattled when FX didn't announce last week's episode was a "series (not season) finale" until that very day—which is still better than how Showtime handled the premature end of Penny Dreadful, which only let you know it was "The End" as you finished the finale, never dreaming it wasn't getting another season. The Dreadful denouement was apparently at least partly a creative decision, whereas with Tyrant, it appears that the producers knew the show was on the ropes all season long, and when the ratings didn't pick up, this last-minute cancellation may have only been a surprise to its fans. To your point, though, even if a series has a long-term game plan, that's no guarantee the show will make it to the finish line if too few are watching it (among other metrics). Which is why it's always worth celebrating when series like Breaking Bad and Bates Motel get to end their stories on their own terms, even if we wish they'd keep going at least a little longer.
And yes on The Strain vs. Fear the Walking Dead. The difference here being that The Strain has no higher aim than monster-movie thrills, which makes it more of a guilty pleasure. Its lack of self-importance is something I find rather refreshing this time of year, especially when compared to what I call the "slow death" of the ponderous Fear.
And yet, in an attempt to show all sides, here's this:
Question: There are so many complaints (including yours) in your column about Fear the Walking Dead that I feel compelled to write, just to let you know that some people, including me, actually like this new season. I found Season 1 dreary and aimless, so was pleasantly surprised by how much I enjoy Season 2 now. And contrary to most opinions expressed in your column about it, I find Frank Dillane's performance (as Nick) mesmerizing. He has one of those faces in which you can read so many emotions and thoughts at once that I can't stop watching him. I also think the character of Chris is intriguing; for that matter I am interested in all the characters under the age of 30, basically. (I'm not finding that I care much about Madison, Travis or Strand.) At any rate, I just wanted to let you know that some people, with whose opinion you have often agreed, actually like the show.
That being said, by the way, I like the idea of your correspondent Maurice in last week's column, who suggested that it would have been better done as an anthology. In my opinion, the best zombie-related work ever done was the original novel World War Z, by Max Brooks (son of Mel Brooks and Anne Bancroft). It was very much an anthology, with dozens of different situations and characters around the world showing the progress of the zombie apocalypse and the fight against it. (The movie based on the novel really has almost nothing to do with the novel, and is not an anthology at all.) A real anthology series based on World War Z would have been an excellent idea. — Paul
Matt Roush: That anthology discussion received quite a lot of positive feedback, indicating that the revival of this form (in shows as varied as American Horror Story, American Crime and Fargo) is finding an audience, and is a way of storytelling we're likely to keep seeing more of in the foreseeable future. Agreed on the merits of World War Z, book vs. movie, and how that approach would work beautifully on TV. And regarding Fear the Walking Dead, I never assume my or my correspondents' views are absolute. Very few series have been universally embraced or reviled. You make some fair points about the younger characters, especially Chris, whose evolution into a cold-blooded killer (not just of zombies) is among the more provocative aspects of the series. His dad, however … Ugh.
---
Atlanta: Lost in Translation?
Question: Based on the good reviews and my fondness for Donald Glover, I watched the first two episodes of Atlanta. At least I tried to watch them. I could not make out anything the male characters were saying. I caught a word here and there, but had no real idea of what was going on. The one exception was Glover; I had no problem following him. No review I read has mentioned this problem, but I think it is a big one. Do you agree? – Podell
Matt Roush: I didn't have that issue, and neither did any reviewer that I'm aware of (pretty much all raves on this one). It could be that the lingo these characters are using in this very specific world Glover has created is alien to you, or maybe the fact that it's all playing out so naturally without voices being raised comes off more like mumbling. I previewed these episodes off screeners provided by FX, so I may have had a different experience than yours. But no one I know who sampled it off air has complained (though, adhering to my aforementioned philosophy, I'm sure you're not the only one).
---
Lightning Round: Summer Shows in Limbo
Question: I just finished watching American Gothic. What a great show! Plot twists every week, great acting, no resolve of the Silver Bells killer until the end, and then another plot twist!! Kept me, and everyone I recommended this show to, guessing. Is it going to be renewed? I do hope so. It was a lot better than a lot of the endless summer drivel. — Lainie
Matt Roush: As I'm answering this, no news on this front yet. May be too soon. But the ratings were pretty lousy for this (and for my own favorite CBS summer series, the way sillier BrainDead), so I wouldn't count on a second season. Still, at the very least, be glad there was a resolution to the first season's main mystery.
Question: Matt, you are, in my opinion, far and away the best TV critic. I always enjoy reading your reviews, even about shows I don't watch! Two questions: (1) There was a short-lived series starring Patrick Wilson and the wonderful Margo Martindale; he was a surgeon and she was his administrative assistant. I don't remember the name of the show, but does it qualify for your one-season list? (2) I really enjoy NBC's The Night Shift and wonder if you've heard anything about its renewal chances for next summer. — Gwen
Matt Roush: Thanks for that. And your reward is the name of the 2011 CBS drama A Gifted Man, which only lasted 16 episodes so qualifies under the "one-season wonder" rule, though I didn't witness too much hand-wringing over that series' early demise. (Other shows that have been mentioned since the last round include Fox's 1993 police comedy Bakersfield, P.D., starring a pre-Breaking Bad Giancarlo Esposito, NBC's political drama Mister Sterling from 2003 and several call-outs to the nostalgic CBS family comedy Brooklyn Bridge, which did eke out a shortened second season in 1992-93.)
As for The Night Shift: Again, too early to know. It seems to have taken a hit numbers-wise in the third season, but it's harder to predict where the line is being drawn these days.
Question: Is Major Crimes coming back for another season? — Unsigned
Matt Roush: Almost certainly. TNT increased the show's episode order for the current fifth season, which means there will probably be another arc of episodes later this year or in the winter/spring. TNT is going through a rebranding evolution, shedding some long-running series (like Rizzoli & Isles), but I'd think this one's safe for the time being. They can't afford to cut all of their ties, and this spinoff to The Closer (which helped establish the network) is the closest TNT has to a Law & Order-type franchise. Keeping an established series like this on the air gives them a platform from which to launch new and possibly riskier shows.
That's all for now. Thanks as always for reading. I can't do this without your participation, so please keep sending questions and comments about TV to [email protected] or shoot me a line on Twitter (@TVGMMattRoush). Or submit your question via the handy form below: