'The Strain': Miguel Gomez on Gus's Devotion to Strigoi Mama
Spoiler Alert: This interview contains spoilers from this week's episode of The Strain.
Gotta love a guy who loves his mother, right? But what about a guy who loves his mother who is existing on his blood since she's become a muncher?
That's what we saw in Sunday's episode of The Strain, where caught up with Gus (Miguel Gomez), who wasn't in the first two episodes of the season. Turns out he's been bleeding himself in order to keep his mother (Adriana Barraza) alive even though she'd just as happily suck him dry since, yes, she's now a strigoi. Gross, yes. A great sign of devotion? Um…sure.
The good news is that we also saw Gus and Angel (Joaquin Cosio) reunited, which is always a good time on the FX horror series.
TV Insider recently sat down with Gomez to get his take on Gus in this episode, what's to come as the third season continues to unfold and whether he has a desire to ever be a muncher.
I get that Gus is a guy who loves his mother but does he actually realize what has happened to her? I mean, she's not really his mother anymore!
Yeah, I think he's kind of shell shocked and he does not want to believe. The only way for him to continue moving forward is to be in this delusion and act like it didn't happen, like everything is going to be OK. And I think there's maybe a part of him that believes there might be some sort of a cure somewhere. But his driving force is his mom. She is what made him want to change his life, it's his everything. I think, by losing her, his character will truly be revealed because now he has no reason to actually do anything right anymore but it's still in him, it's in his heart, it's who he is. His mom had a lot to do with all that.
Culturally there is a strong attachment to the mother figure. That's probably coming from (series co-creator) Guillermo del Toro, right?
I think it was really important for Guillermo to show this Mexican character that really, really loves his mom and would die for his mom. I know that that was really important for him to show that. For people to see how close that connection really is.
Once we get past this mother-centric part of Gus's journey, will we see him pulled into some other stories?
Yeah, they get pulled in some different directions, Gus and Angel. They go on some adventures and he kind of becomes like a father figure to Gus. They disagree on a few things, as far as what Gus is doing by keeping his mother alive, and Angel feels, "She's gone, man." They get into a little bit of an argument…it's a pretty intense adventure they go on.
Just as an actor, how do you get into some of the emotional sides of Gus? Everything going on is still fairly fresh since we're still in the early days of the apocalypse.
I've always been pretty committed to it and I don't even think that it's on purpose. As soon as I read the script, I already start feeling whatever it is Gus goes through. I carry that with me for the week before shooting, like more of these dark places and then I get on set and I don't want to look at any of the vampires getting their makeup done. I don't want to eat lunch with any of the Ancients or anything like that as far as when they say "cut." I don't want to see anything until I actually see it on set. I really feel it. The hard part for me is letting go after, which is what I'm learning, as I go on. The more experience that I get, being able to let it go and not hold on to it for so long.
Is Gus getting some loving this season? He got a little bit in the past…
I'm waiting for Aanya (Parveen Kaur) to get back. I think he'll find her somewhere down the line but this season is all business.
Are you a fan of this kind of show?
No, I've never been into the horror stuff because it's pretty scary.
But you watch The Strain, right?
Yeah and that's another thing I do. I try to know as little as possible about everything else. I just want to know what's going on with Gus. So, when I do watch it back and see everything coming together, I'm watching it almost like a fan. I haven't seen Kevin [Durand, who plays Fet], or anybody else working. It's like almost a whole other show going on, within the show.
Any envy at all to be one of the strigoi?
Oh, that's like four or five hours of makeup, sitting in the chair every morning. I get there at eight in the morning and they've already been there since four so, no, not really.
The Strain, Sundays at 10/9c on FX.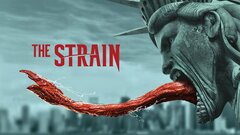 Powered by