'Adam Ruins Everything's Adam Conover on All the Work It Takes to Ruin Stuff
If you've watched the truTV show Adam Ruins Everything for any period of time, host Adam Conover's act starts to look and sound familiar. Then it hits you: he's a smart-ass, better-coiffed version of the Food Network's resident know-it-all, Alton Brown. The comparison is so strong that the show's writers have made jokes about it in recent episodes.
But, as Conover tells TV Insider, that was a coincidence. "You know, it's nice to finally set the record straight; I knew who he was, but I had never seen an episode of Good Eats until after we started working on this show. I watched a couple episodes, and I was like, 'Oh, yeah. This show is great,' but I had never seen it before, just because I spent the last 10 years without cable, being a poor college student."
RELATED: TruTV Renews Billy on the Street, Adds Adam Ruins Everything Episodes
The comedy/infotainment series, which started as a CollegeHumor.com web series and whose second season on truTV is underway, and Conover is skewering commonly-held beliefs about topics like football, weddings, how mall stores and outlets operate, trophy hunting, and more. The show not only uses well-regarded and well-known sources in its research, it takes pains to tell people where they find the info, just in case they doubt, for instance, that wedding costs have skyrocketed in recent years, or that most glasses are made by the same company. The sources pop up in the corner of the screen and are listed for each episode on the show's website.
Conover has been ruining things for friends and family for years, albeit without a research team behind him. "My joke is that I've read every issue of The New Yorker for the last 15 years. I just read articles, when I'm driving in my car, I listen to podcasts and audio books, I don't listen to music."
As an example of being "that guy" who always corrects people based on what he read, Conover mentioned an incident with his sketch group, Olde English. "We were shooting in a private plane, and we were chatting with the pilot who very kindly let us use his plane. He was talking about why you need to turn off your electronic devices during takeoff and landing, and I said to the pilot, 'Oh, well I read an article saying there's no possible way your Game Boy could have an effect on the plane. It's just a silly precaution.' He was like, 'No, I think it's important.' He was a little bit taken aback, and all the guys in my sketch group made fun of me for correcting the pilot of the plane."
The structure of each episode is similar: Conover is always bouncing his knowledge off of what he and his staff call a "mark," whether its fellow College Humor comedians Emily Axford or Brian Murphy ("Murph"), or any number of actors, with the help of guests like Rachel Bloom and subject matter experts. "They're the audience surrogate," he says about the "marks." "They're asking the questions that we think the audience is going to ask at that point in the episode. They're the person saying, 'Well, wait, I heard this. Isn't this the case?' Or, 'Aren't you forgetting that?' Or, 'Wait, are you telling me I should do this?' Then Adam answers their question."
Conover feels that when viewers have that advocate asking the same questions they would, it "makes the audience go through that same thought process, and allows us to interact with their baseline of knowledge and speak to them more directly. That's what it does from an argument perspective."
He knows that 22 minutes isn't sufficient to fully cover a topic and all its nuances, but he's happy with the ground he and his staff are able to cover. "That always bothers me when there's some question that we weren't able to answer because that segment was cut for time," he says. "That said, I do think we are able to get into surprising detail on the show. We're able to get to pretty nuanced places. I believe that there's no topic that's off limits for the show and no topic that's so complex or nuanced that we can't cover."
RELATED: Cable Aired 750 Unscripted Shows in Primetime Last Year
The upcoming segment on big-game trophy hunting and one last season about death are examples he gave of that. "That was a segment with a very difficult, very tough message," he says about the death episode. "We talk about issues involving end of life care, we talk about the philosophical inevitability of death, and we talk about the funeral industry. I think we give each of those topics a very nuanced, fair portrayal in a very short amount of time."
Annotating each episode, like a college student might footnote a research paper, not only helps people find out more about a topic, but Conover thinks it helps make the dialogue between show and fans more intelligent.
"People can say, 'Oh, your source used an incorrect methodology,' and now we're having a discussion about the scholarship. I could say, 'Oh, that's a good point. They did use an incorrect methodology, but there are other sources that say the same thing.' You know what I mean? Where it moves it from a discussion over, 'You're right, you're wrong,' to a discussion about the method of inquiry, which is where I prefer to live."
Conover will be going on a brief tour starting next week and lasting into October; in addition to his standup act, Conover will be doing what he calls a "TED Talk format, where I'm going to be showing slides, showing video clips, quotations, images, little bits of sketch comedy. It's going to be a really, really cool format. We're doing surprising facts about the history of American election system, presidential history, history of the political parties, problems in our election system today, and we're going to be talking about what is really unique about American democracy right now." While there are elections that have been "crazier" than this one, "there are some things about this election that are very, very strange that we're going to be talking about. We'll be looking at the election through a historical perspective."
If you've read up on a particular topic Conover covers in an episode — for instance, an entertainment journalist watching the episode "Adam Ruins Hollywood" — many of the facts Adam gives aren't anything they don't already know. But, given truTV's young audience and Conover's desire to reach people who want to know more on a topic, he feels the show is succeeding. "One thing that we've really been gratified by is that a lot of teenagers, and in fact kids, small kids, really like the show, which is really wonderful, the idea that we're encouraging 10 year-olds to question the world around them. It is something I'm very, very happy about."
Adam Ruins Everything, Tuesdays, 10/9c, truTV.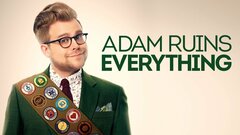 Powered by