'Rizzoli & Isles' Boss on the Emotional Series Finale
Friendship, family and murder investigations come to an end as Rizzoli & Isles hang up their badge and scalpel.
The final hour will feature one last case for detective Jane Rizzoli (Angie Harmon) and her best friend, medical examiner Maura Isles (Sasha Alexander) to unravel. "It's a small case, basically about love," executive producer Jan Nash previews. "We don't spend a lot of time solving it, but it gives our characters places to walk to while they're talking about their feelings. We felt it was important for the audience to have an opportunity to say goodbye to these characters in a real and emotional way."
RELATED: Rizzoli & Isles: Behind the Scenes as Sasha Alexander Makes Her Directorial Debut
The series finale could in fact see the end of the drama's central relationship: Jane recently revealed that she has decided to leave Boston and move to the D.C. area to work at Quantico. "Announcing the decision [prior to the finale] allowed us to challenge these characters with big questions and react to the decision," Nash says.
Jane isn't the only one with a new experience in her future. "The entire episode is one big life-changing thing after another, right down to the last moment," teases Nash. But fans should be assured that the finale is "not a cliffhanger. It ends with laughter and tears and with a sense that it's an end."
RELATED: Rizzoli & Isles Boss on the Crime-Solving BFFs' Final Season
After spending 105 episodes with their characters, the actors were given the chance to leave their mark on the story's conclusion. "They took the scene we'd written and added to it in a way that I found to be very delightful and true to what the show was," Nash says. "The show ends not with words that were written by writers, but words that were ad-libbed by actors." A true partnership indeed.
Rizzoli & Isles, Series Finale, Monday, September 5, 9/8c, TNT.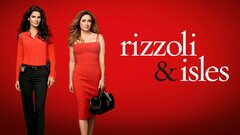 Powered by