'Star Trek': Rod Roddenberry on Keeping His Father Gene's Vision for the Franchise Alive
He is the keeper of the flame. Eugene "Rod" Roddenberry, the sole offspring of Star Trek creator Gene Roddenberry and actress Majel Barrett (Nurse Christine Chapel), took his sweet time appreciating the world into which he was born. Truth be told, the younger Roddenberry had no real interest in Star Trek when he was growing up and much preferred to watch Knight Rider! But now, at 42, he is proudly preserving his late parents' legacy and has forged a remarkable connection with fans of the franchise.
Not only has Roddenberry launched Project 366, a social media hub offering free access to rare, never-before-seen Trek memorabilia from the family vaults, he's also one of the executive producers of the new CBS Star Trek: Discovery series, coming in 2017. We spoke with Roddenberry about the prime directive that guides his every move.
Your trek to Star Trek was a slow and circuitous one. What took you so long to embrace the franchise?
What I embrace is not so much the franchise but the inspiration behind it—that we can work together as a species and create a better and more hopeful future. It's not that I don't care about Star Trek or Kirk or Spock or the Enterprise, or the follow-up series or the movies. I certainly do care about them. But that is not my focus. My family doesn't own Star Trek. It's a CBS thing now. We can't call the shots. What I care about is keeping my dad's vision vital in any way I can.
What's your earliest memory of Star Trek?
It's very cute. [Laughs] Well, it's very cute to me, anyway. My father had a blooper reel of actor screwups that he'd show at Star Trek conventions, and he'd play it for me on the projector in his office at home, and I would lay on the floor giggling like crazy. Beyond that, it's hard to say when Star Trek really came into my consciousness. I used to watch The Next Generation, mostly because my father put me to work there as a production assistant when I was 13.
RELATED: As Star Trek Turns 50, Gene Roddenberry's Vision Endures
Did you feel pressured by your parents to go into the business?
I don't know that I'd call it pressure, though I did a bunch of commercials when I was a little kid and couldn't act to save my life. [Laughs] And I still can't! I guess you can say I was forced to work summers at the production office. My father was trying to teach me how to be responsible and earn a living, but I really wanted to be playing with my friends. I'm glad for the experience, but at that age I didn't take advantage of the opportunity to really learn anything about the family business.
Do you regret that?
It would be too much to say I regret it. I forgive myself because I was just a kid. But I now see what I missed.
What changed for you? Why did you decide to pick up the Roddenberry torch?
I was 17 when my father passed away and it was only then that I started to pay attention to what he had created. It was just such a raw, tender time for me, and I guess it left me more open to understanding what my father was all about and how he had touched so many lives. It's as if his death shocked me into awareness. I saw that his millions and millions of fans had connected with Star Trek in a way I never did, and I needed to know more about that. I listened to the most incredible stories of people who were able to move beyond their physical disabilities or heal from a rough childhood because of how Star Trek inspired them and encouraged them to believe in themselves. I was so moved by that! I had grown up loving Knight Rider and Starsky & Hutch, which were great shows, but they didn't change lives.
Didn't your mom officially woo you into the fold with a job on Earth: Final Conflict?
Yes. That was one of my father's unproduced series ideas, which my mother had pitched after his death and sold into syndication. [The Canadian-produced series aired from 1997 to 2002.] I was in my last year at Hampshire College and the show was going to offer me an associate producer credit even though I had no experience. I didn't want the title or the responsibility, so I signed on as a technical adviser.
Did you see yourself as a protector of your dad's vision?
As I read the scripts, I'd find myself thinking about the characters with my father in mind and asking questions like, "Should this guy really be shooting first, or should he try to communicate?"
RELATED: How Star Trek Has Been Able to Live Long and Prosper For 50 Years
It's been said that the Trek era can be divided thematically—pre-Picard and post-Picard—with the later spinoffs venturing from your father's philosophy of inclusivity and nonviolence. By the time we get to Enterprise, Captain Archer is seen torturing a terrorist with his own hands. Thoughts on this?
My father's Star Trek showed humanity of the future doing things differently than we do today, while the iterations of Trek that came after his death felt more like how today's humanity deals with conflict—by retaliating, dropping bombs, whatever. My father was always interested in how we might respond to problems in a better way. Questions about that came up so often while I was at Final Conflict that I created a website called the Gene Roddenberry Philosophy Sphere. I was on it every day talking to fans and asking them, "What is it about Star Trek that inspires you?" That's when the growth really happened for me. Working on Final Conflict and getting to know all the people who were excited to be part of a new Gene Roddenberry project was amazing and a real eye-opener. It wasn't just a job for them. They saw it as a once-in-a-lifetime chance to connect with him. He was like a Greek god to so many people.
How do you hang on to your dad's rosy vision of tomorrow in a world that's increasingly dismal and scary, without it seeming like Roddenberry's Folly?
I don't have the answer. In 2010, we established the Roddenberry Foundation [which has funded a variety of causes, from sustainable wastewater treatment technology to stem cell research], and we're still young and naive and believe we can change the world in some small way. The great thing about the original Star Trek is that, on the surface, it was a show big on diversity. There was a black person and a Japanese person and a Russian person on the bridge, and that was groundbreaking. But what was really groundbreaking was the fact that Captain Kirk and his crew were out there in space seeking new ideas. New ideas! In today's society, that's something many people fear. But it's the backbone of Star Trek.
Your son, Zale, is turning 3. Will you let him discover Trek in his own way or will you guide him to his legacy?
I hope he will discover it the same way I did—in his own time and in his own way. I want to encourage his passion, whether that passion is to become an astronaut or a ballet dancer or a vacuum-cleaner repairman. It's all creative. It's all important. If my son embraces Starfleet, great, but if he doesn't care about it, that's OK too. It's more important to me that he be passionate about the world, and that he use his gifts to make it a happier, healthier place. That's the greatest way to honor my father.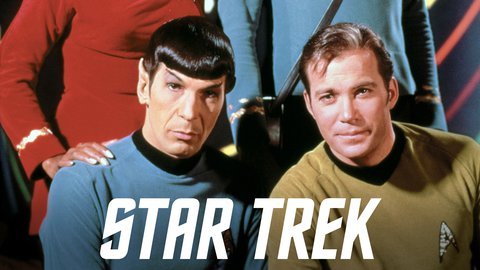 Powered by