Meredith Vieira on Hosting '25 Words or Less' From Home, & the Game Show Boom
If anyone knows about adapting in the ever-changing television landscape, it's a near 50-year-TV veteran like Meredith Vieira. Which is likely why the award-winning TV journalist is taking in stride the hosting of her syndicated 25 Words or Less from a newly created basement studio in her New York City home. 
The game show, now in its second season, centers around contestants competing for a chance at $10,000 in a fast-paced word game with the help of celebrity teammates. (They include celbsRaven-Symoné, Ross Mathews, James Van Der Beek, Joel McHale, Greg Grunberg, and Melissa Peterman.) Following COVID safety protocols, each now participates from their respective pods in a Los Angeles soundstage. 
BV
Vieira, who's also the Who Wants to Be a Millionaire alum, talks to TV Insider about her  virtual taping experience (175 episodes on the schedule!), the love she gets on social media as speculation mounts about her replacing the beloved, late Jeopardy! host Alex Trebek, and more.
How is it working from home?
Meredith Vieira: It's interesting. On one hand, I'm grateful to Fox for making this work because these are hard times. I think it would have been extremely difficult to pull it off otherwise and guarantee the safety of everybody. That's the most important part is making sure you're going somewhere safe. I'm so impressed by our engineers, our director, and all the folks behind the scenes. They made it look seamless to our audience. It didn't feel like the quarantine version of 25 Words or Less. And being home with my husband I think was really important. 
On the other hand, one of the reasons I was so thrilled to get the opportunity to host 25 Words or Less was the ability to go to the set. There was something so cool to go to the studio in L.A. and being with folks in a studio and interacting on a personal and physical level. There is no substitute for that. I want to get back to that. It's a kind of show where people were hugging and high-fiving and all that energy I feel you can't recapture any other way. 
Do you do anything at home to capture that enthusiasm?
I'm so into the game. It does make a difference having a live audience, but we never depended on it like some shows might. I miss them, but I think we were able to pull it off. It is funny to hear these canned reactions. We have Melissa Peterman and Greg Grunberg who get off on that. They're like, "the crowd must love me" when there is no crowd. It is what it is. We just want to come back badly. 
There seems to be a game show boom. Do you think this is related to the pandemic?
I don't know how much of it is cyclical. I think people have been wanting family shows. I remember when Millionaire with Regis [Philbin] came on the air when my kids were little. We sat there on a Sunday as a whole family watching this show. I remember as a kid we'd gather for certain shows as a family. That doesn't happen often anymore. 
So other than not having an audience, what are some of the other challenges? In terms of the technology, for instance, is there a lag with the timer?
You hit the nail on the head. It's the lag, that two- or three-second delay between L.A. and New York. We had to actually add another phone line to our house in New York because even a delay of one second is so noticeable. In a game like ours where very little is scripted we found we were stepping on each other because you never know when someone was going to stop talking and let the other person in.  Starting and stopping on this kind of show takes away the spontaneity. 
But I was impressed with how smoothly it went and how much the celebrities appreciated the safety of it. They went to an actual soundstage studio. I would have been nervous. Credit to Fox — they guaranteed a safe set and delivered. 
How do you think Jimmy Kimmel is doing as Millionaire host?
I saw one and I [thought] he was great in it. It's different. My only criticism was me wishing they would do the original format. I haven't followed it on a regular basis though. I'm too addicted to Netflix things. 
So, your name has popped up on Twitter about replacing Alex Trebek. How does that make you feel?
I appreciate anyone who likes me as a host. I'm not going to throw that out the window. I think that it's pretty fabulous. I thank them for the support. It's still weird to me to think of Alex having passed. I watch every night, and he is there. I'm not quite in the he was state of mind yet.     
The thing that I always appreciated about him is he always said the star of his show was Jeopardy!. He was there to expedite things and be the guy who keeps the show moving. He never saw himself as the star. And I think that showed in the classiness of the game. It is going to be tough to replace him.  
It would be interesting to see your show have a primetime run.
That's what we are hoping for. We keep pushing Fox. We want to do a charity show. We were hoping to include first responders and people truly impacted by COVID, which is most people. We keep our fingers crossed that will happen at some point. 
25 Words or Less, Weekdays, Check Local Listings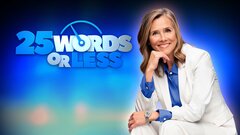 Powered by