President Obama on Family, Ego & More in 'The Oprah Conversation' (VIDEO)
President Barack Obama discusses his new, deeply personal memoir, A Promised Land, in a revealing interview on The Oprah Conversation Tuesday, November 17 on Apple TV+.
Oprah Winfrey guides the conversation with Obama into politics, delicate negotiations and race issues, as well as the president's own self-assessment and self-awareness of his journey to the White House and beyond.
"Once you run for president, win the presidency, it's the most, the greatest popularity contest in the world, does that fill whatever hole there might have been?" she asks. Obama responds that any ego he may have had disappeared with the pressures of the job.
He also discusses how the 2012 Sandy Hook Elementary School mass shooting in Newtown, Conn., was the saddest day of his presidency. "When Congress failed to do anything in the aftermath…I was probably the angriest I ever was during my presidency. I was disgusted," he says.
He also talks about family life and the complicated nature of his presidency. "Hopefully what initially drives you transforms you into something large," he says.
For more
The Oprah Conversation: President Barack Obama, Tuesday, November 17, 9a/8c, Apple TV+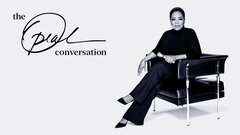 Powered by