'The Walking Dead: World Beyond': Loaded Up and Truckin' (RECAP)
Shadow Puppets
Season 1 • Episode 6
[WARNING: The following contains MAJOR spoilers for The Walking Dead: World Beyond Season 1 episode 6, "Shadow Puppets."]
Remember how last week's episode was titled "Madman Across the River?" Well, in this episode, which was directed by Michael Cudlitz (Abraham Ford!) we meet the "madman" himself—and he's not so bad.
His name is Percy (Ted Sutherland) and he has a problem. He was traveling with two other guys, but they stole his stuff and left him; at first the group thinks he lost sentimental things, like Elton's (Nicolas Cantu) book, but really, he means his truck. Percy really wants his truck back, and the group really needs a way to get to CRM faster, so they strike a deal. But of course, all is not what it seems where Percy is concerned, and on his behalf, the group unwittingly sets off into danger.
Being Brave
Determined to help Percy get his truck, the group heads to the nearby town, where Percy claims the two guys should be hiding out. They find the truck, but the keys are not inside; just a dead guy, whom they most certainly cannot use to get the vehicle running. Percy can't hot wire it, so they're left with no choice but to go inside a nearby building to find the other man, who they guess has the key.
Felix (Nico Totorella) and Percy head in, while Hope (Alexa Mansour) and Elton, and Silas (Hal Cumpston) and Iris (Aliyah Royale), hang around the building on guard duty. Iris wants to be brave, so she goes inside and runs into Percy. They find the keys, and he gives them to her, but he won't leave without the rest of his stuff. He tells her to go, and she's halfway down the stairs before she hears the sound of gunfire and Percy's startled cry.
A Change of Heart
Iris and Percy had kind of hit it off earlier in the episode (much to Silas' dismay), so she heads back to help him… and finds him running off. Meanwhile, the dead guy is very much not dead, and he's loaded the group's things into the back of the truck and started driving away. Iris tries to go after Percy, a doomed quest which ends with her landing in a partially filled dumpster. If you know anything about TWD shows, you know this dumpster isn't just filled with garbage.
Thankfully, Iris is unharmed by the walkers and manages to get out with a little help from—surprise!—Percy. Turns out, he convinced the other guy, who is his uncle, Tony (Scott Adsit), to turn back and help Iris. They all get into the truck and leave, and, as you might gather, Percy and his uncle have a little explaining to do. The stunt they pulled with the group is something they'd done to plenty of others (Tony was a magician/performer in Vegas, so he knows all about makeup), and they'd steal stuff and head for the hills. Why were things different with our main characters? Well, because no one had ever come back to help Percy before, and that meant something to him; he couldn't just let Iris die.
The End of the World
As the episode ends, even though Iris is a little miffed at Percy, it seems the group has grown by two. Percy and Tony put on a sweet show with a light screen and shadow puppets (hence the episode title) that illustrates "the end of the world," which makes everyone pretty emotional. But there's another CRM tidbit here—it seems like Percy and his uncle stole the truck from the shadowy organization, and they know about drop zones where they can refuel. Uh, guys? Stealing from CRM is a very, very bad idea. Anyway, Percy's uncle wants to know whether Felix's CRM logo jacket can get them out of trouble if they run into any. The answer is "no, probably not," but of course, that's not what Felix says. And thus, a tenuous partnership is born.
In a post-credits scene, we learn that scientist-lady has Hope and Iris' dad's notes, and she seems to be in on a plan to capture the group once they arrive (of course CRM knows they're coming) and/or kill their father; at least, that's what it sounds like when she gets a phone call from Lt. Col Kublek. The whole scene ends with the sound of walkers snarling in the lab, which is ominous, to say the least. So… is anyone else really, really worried for Rick (Andrew Lincoln)? Because CRM just keeps getting worse.
Other Observations
I think this is the best episode so far. It was pretty smart of the show to precede this installment with one titled "Madman Across the River," because it made us suspicious of Percy from the beginning—and then it turned out he's not that bad of a guy. Well, he is, but he isn't. I was also ready to groan at the beginning of the episode since I thought it was another one of the show's dramatic flairs that land with all the subtlety of an anvil, but I'll admit I liked how this one connected to the ending.
Scott Adsit!!! What?! I didn't know he was going to show up here, but I'm certainly excited to see him. Here's hoping he sticks around for a good long while. (Now watch, he'll die next episode. It does worry me that he's a guest star, not a regular.)
Iris and Elton's conversations about his mom throughout this episode were interesting, but I have to wonder whether this is going to get dragged out for the whole season. "Hey, sorry, I killed your mom, Elton," feels like a season-finale level reveal. I'll certainly take it sooner if the show gives it to us sooner.
So… what was the plan, if they had gotten the truck and left two very angry guys in their wake? Did they just assume those guys wouldn't track them back to their campsite? I get that they wanted to wait for Huck (Annet Mahendru), but Felix should've known that would probably mean killing the guys who stole the truck from Percy. There would be no guarantee of their safety otherwise, especially if they ended up stuck at the campsite for a few days to wait for Huck.
Rating: 4/5. Here's hoping the show starts to pick up now that it's about halfway through its first season. Perhaps the storytelling wrinkles have been smoothed, and it'll be more fun to watch from here on out.
The Walking Dead: World Beyond, Sundays, 10/9c, AMC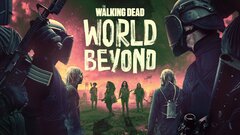 Powered by