'The Campaigns That Made History' Dives Into Surprising Political Battles (VIDEO)
The race to the White House is one of the most competitive high-stakes political battles on earth.
Hosted by Emmy-winning journalist Carlos Watson, The Campaigns That Made History premieres Tuesday, October 27 on History Channel.
Campaigns are about one thing: to convince the American people that you have a vision for their future. They have inspired millions but there is more to the headlines.
The Campaigns that Made History tells the inside stories, examining the personalities of the candidates, the unlikely moments, missteps and backstabbings which have shaped the history of our country.
The documentary pulls back the curtain on some of the most celebrated, boldest and brashest presidential candidates in contentious campaigns, from Shirley Chisholm, Ronald Regan, Barack Obama, Donald Trump, and more.
The Campaigns that Made History, Premiere, Tuesday, October 27, 9/8c, HISTORY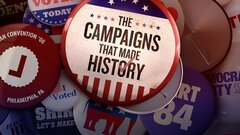 Powered by