'The Nightly Show with Larry Wilmore' Canceled By Comedy Central
It's no secret that in this crazy presidential campaign season, Comedy Central, who has been a big part of the conversation since at least 2000, has been relatively quiet. Unfortunately, Larry Wilmore just found out what happens when you're not connecting, even with good content: According to The New York Times, Comedy Central has canceled The Nightly Show, with its last episode airing Thursday night.
"Even though we've given it a year and a half, we've been hoping against hope that it would start to click with our audience, but it hasn't happened and we've haven't seen evidence of it happening," the network's president, Kent Alterman, told the Times.
RELATED: Larry Wilmore: Jon Stewart Is 'Combination of Walter Cronkite, Jesus and Johnny Carson'
The show, Jon Stewart's hand-picked replacement for The Colbert Report, debuted in January 2015 and established itself as a show that wasn't afraid to have serious discussions on issues like politics, racial tension, and aggressive policing. The show wasn't trying to make viral video moments, it was more interested in Wilmore's weary and funny take on the news and "Keeping It 100," as the show's signature segment attempted to do on almost a nightly basis.
But that was also the show's downfall. With Alterman telling the Times the show "hasn't resonated" with the audience, there's that acknowledgement that virality matters. It's one of the reasons why they have more confidence in Trevor Noah on The Daily Show than the show's sagging ratings indicate; he resonates with a young audience that watches the show and clips online. Wilmore, as funny as he was, just didn't.
RELATED: Larry Wilmore on Hosting the White House Correspondents' Dinner
Alterman also told the Times that, because contracts for Wilmore and other staffers were ending soon, a decision had to be made now, despite being in the middle of the general election cycle, where Wilmore might have made some hay with the foibles of Donald Trump and Hillary Clinton (though, who are we kidding, most of his jokes would have been about Trump). But Alterman cited that during the conventions, little of what the show did connected with audiences on social media, which is what tore it for the network.
Hopefully Wilmore will land somewhere — even back on TDS — to continue to discuss this election, which he called "The Unblackening". His statement on the cancellation reflects his surprise at the move: "I'm really grateful to Comedy Central, Jon Stewart, and our fans to have had this opportunity. But I'm also saddened and surprised we won't be covering this crazy election or 'The Unblackening' as we've coined it. And keeping it 100, I guess I hadn't counted on 'The Unblackening' happening to my time slot as well."
@Midnight will fill the 11:30/10:30c slot until Comedy Central finds a replacement.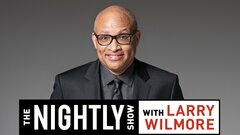 Powered by