Nat Geo WILD's 'Photo Ark' Captures At-Risk Species Before They Disappear (VIDEO)
Photo Ark documents a groundbreaking effort to photograph at-risk species living in the world's zoos and wildlife sanctuaries before they disappear — and to get people to care while there's still time. The two-part special, documenting Sartore's quest, premieres Saturday, October 17 and 24, on Nat Geo WILD.
Sartore and his crew travel to multiple locations over the course of the National Geographic special to continue adding species to the Photo Ark. Just recently Sartore documented the 10,000th species for the Ark and he'll go to great lengths to photograph thousands more.
Joel dives deep underwater in the Amazon rainforest and soars more than 12,000-feet, above the tree line in the Colorado Rockies just so he can get the perfect shot, and he travels through the Islands of Indonesia to help save threatened species and protect their critical habitats.
He must constantly adapt his ever-changing "photo studios" and accommodate animals with unpredictable habits to create a connection with audiences around the world, showcasing these species like never before.
Catch an exclusive sneak peek at the October 17 episode below.
Photo Ark, Series Premiere, Saturday, October 17, 10/9c, Nat Geo WILD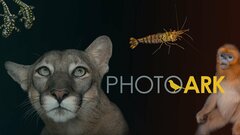 Powered by