'Suspicious Minds' Unfolds a Deadly Mystery on Investigation Discovery (VIDEO)
Suspicion is contagious. What starts as a tiny spark of doubt focused on one individual can metastasize and cast a shadow on everything you, your community, and ultimately law enforcement thought to be true. Suspicious Minds premieres Thursday, October 8 on Investigation Discovery.
The new series creates a visceral viewing experience where a murder mystery unfolds as a psychological thriller, and suspicion and doubt cloud the perceptions of everyone involved.
In the series premiere episode, "Chi Town Gossip," the murder of Yolanda Holmes upends a tight-knit Chicago community. Neighbors whisper about the killer's identity and detectives must break down walls of silence to uncover the shocking plot to murder a mother and owner of a successful hair salon.
Suspicious Minds, Series Premiere, Thursday, October 8, 9/8c, Investigation Discovery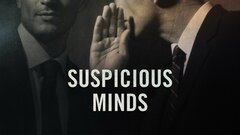 Powered by