It's Not All Marital Bliss in the 'Last Tango in Halifax' Season 4 Premiere (RECAP)
Episode 1
Season 4 • Episode 1
Who said it wouldn't last? Last Tango in Halifax octogenarians Alan and Celia, played by the incomparable Derek Jacobi and Anne Reid, are seven years into their marriage as Season 4 of the lively British dramedy returns to PBS. They're settled in a nice house in Yorkshire, but it's not all marital bliss.
Which makes it all the more fun to visit with them after a long break. The first three seasons of Halifax came in rapid succession, beginning in 2013, plus a two-part Christmas special that aired in 2017. But we haven't heard from Alan, Celia and their frazzled families until now, with four new episodes (instead of the usual six) written by series creator Sally Wainwright (Gentleman Jack).
If the first is any indication, this should be a strong, as well as succinct, season. Previous ones relied heavily on new marriages and babies for the pair's family members, so much so that Alan and Celia sometimes seemed like supporting characters on their own show. But they're front and center when Alan applies for a job at a supermarket; his brother Ted sends word that he's coming to visit; and Celia fumes because Alan has agreed to loan money to daughter Gillian (Nicola Walker).
Alan is filling out an online job application when he gets an email from his brother Ted announcing that he's flying in from New Zealand on a last-minute trip. Alan and Celia's differing reactions say a lot about them. He's worried about the man's health; Celia's concerned about the curtain situation in the guest bedroom.
Those differences become a source of friction. Alan is softhearted and generous, sometimes to a fault, while Celia can be domineering and downright snobby. And she can't understand why Alan would want to work at a grocery store when he doesn't need the money. (This is pre-coronavirus.) "I like to keep myself busy," he explains. To which she replies: "Well, so do I, but in a supermarket," her distaste making it seem as if Alan had signed up to become a miner.
In talking to her daughter Caroline (Sarah Lancashire) about Alan's new venture, Celia's class consciousness gradually emerges. Initially she says she doesn't want her husband taking the bus and worries that the job will be too physically demanding for him. But, essentially, she doesn't view the job as "respectable."
Alan, meanwhile, tells his side of the story to Gillian: He likes being out and about and around people. But his daughter is up to her waist in sheep at the farm and distracted by the woodworm that has infected the house she shares with her son Raff (Josh Bolt), his pregnant wife Ellie (Katherine Rose Morley) and their young daughter Calamity (Tilly Kaye). It will cost thousands of pounds to fix, and Gillian doesn't have the funds. Alan would like to loan her the money, but Celia has her heart set on a new kitchen, and Alan doesn't want anyone to be unhappy.
Not even the dirty, cheeky lad (Liam McCheyne) caught filching food from the grocery store when Alan goes in for his job interview (adorably dressed up in a suit and tie). Alan ends up paying for the food and driving the young Oliver Twist home. He says his name is Harrison and he seems like an intelligent boy, but he's also a good liar. Alan wants to speak to his parents, but when Harrison gets out of the car he makes a run for it, and Alan realizes he probably doesn't live on that block anyway.
But Alan can't let the incident go. In the episode's most moving scene, as he recounts the story to his pal Harry (Paul Copley) over a couple of beers, he's distressed that a child should have to resort to theft to eat. He's also reminded of Frank, a smelly boy from the wrong side of the tracks who they knew when they were kids. Alan wouldn't let him come over to play, and more than 70 years later he's still bothered that he wasn't more kind.
Not all of the conflict this season is centered around class and money, however. It's always a pleasure to see Caroline's disheveled, malcontent ex-husband, John (Tony Gardner), so pathetic he recoils from the affections of his former wife's friendly dog. John comes over for dinner, still hoping, it seems, to get back together with Caroline, even though she's made it clear that she prefers women.
John, of course, is the reason their marriage broke up: He had an affair with Judith (Ronni Ancona), a bestselling young adult author and alcoholic with whom he's now living. John and Caroline's grown son Lawrence (Louis Greatorex) lives with them, and because they're so rich, they can afford to do nothing all day. Still, it's hard not to feel sorry for John when he returns home to what could very well be the iciest house in Yorkshire. Even worse: In the episode's final moments, Judith proposes to him.
But the high point of the premiere comes when the families gather for a joint birthday party for Caroline and Gillian. Once the toast is made and "Happy Birthday" has been sung, the subject of the woodworm comes up. Celia can see from Alan's and Gillian's facial expressions that something is going on, and he finally tells Celia he agreed to lend his daughter a few thousand pounds for her house, so they might have to put the kitchen reno on hold for a month or two.
Not what Celia wants to hear, and she broods as the party goes on, until she can no longer keep silent. "This is you all over, Gillian. Manipulating your dad… We have to bail you out. You, who doesn't think beyond next week and never has."
Ouch! Alan actually stands up to Celia, reminding her that he'd be using his money, but Gillian backs down and says she'll find another solution. They're saved by the bell, quite literally, when Ted calls from the airport in Hong Kong.
Overall, the premiere was a promising, intriguing start to the new season, and a lovely reunion with great characters and an excellent cast. Plus, a reminder to myself to try to be more like Alan, even when I feel like Celia.
Quote of the Week:
Caroline: "I sometimes think if Romeo and Juliet hadn't died when they did, they'd just have fallen out anyway."
Last Tango in Halifax, Sundays, 8/7c, PBS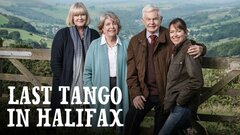 Powered by