A Halloween Pastime Becomes Competitive on 'Outrageous Pumpkins'
It's that time of year, so bring out the carving tools! Imagination and pumpkin artistry will be displayed in the new series Outrageous Pumpkins premiering on Sunday, September 20 on the Food Network.
In this four-part series hosted by Alyson Hannigan, a traditional Halloween pastime is taken to the next level as seven expert pumpkin carvers compete at an outdoor pumpkin playground for the title of Outrageous Pumpkin Champion and a sweet $25,000 Halloween treat.
Each week the carvers compete in two outrageous challenges that test their creativity and pumpkin prowess as they sculpt gravity-defying scenes that celebrate Halloween, with puppeteer and artist Terri Hardin and master pumpkin carver Ray Villafane judging their every move.
Outrageous Pumpkins, Premiere, Sunday, September 20, 10/9c, Food Network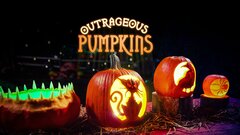 Powered by