What's Worth Watching: 'The Night Manager', 'The Get Down', 'Outcast' and more for Friday, August 12 thru Sunday, August 14
The Night Manager (Saturday, 8/7c, AMC): Cable binge/DVR alert: The sensational six-part adaptation of John le Carré's international thriller is being shown in its entirety, featuring Emmy-nominated performances by Tom Hiddleston and Hugh Laurie. Hiddleston plays the title role, a dashing former soldier recruited to infiltrate the operations of a world-renowned businessman (Laurie) who traffics in sinister arms deals on the side.
Summer Olympics 2016 (check schedules at nbcolympics.com): We've learned never to say never where this legendary swimmer is concerned, but as Michael Phelps continues to add to his historic medal tally this year, he is expected to compete in his final events—for now—with the 100m butterfly final on Friday and the 4X100 medley relay final on Saturday. Will we ever see his like again?
Baseball 2016 Primetime (Friday, 7/6c, Fox): Another potentially epic moment of sports history, as Yankees superstar Alex Rodriguez plays his final game in the classic pinstripes on his home field at Yankee Stadium, opposite the Tampa Bay Rays.
The Get Down (Available Friday, Netflix): The birth of hip-hop becomes a raucous cultural coming-of-age story—think South Bronx Side Story—in Baz Luhrmann and playwright Stephen Adly Guirgis's boldly stylized musical drama set in 1977. This romanticized fable is at its best when it truly gets down, in over-the-top sequences like a gang shootout at a glittery disco. The story percolates with a beat you can't help but dance, or possibly die, to.
Outcast (Friday, 10/9c, Cinemax): The summer's creepiest series wraps its first season of demonic terror with Kyle (Patrick Fugit) and Reverend Anderson (Philip Glenister) seeking a new adversary in Rome—not that Rome; the one in West Virginia. And enigmatic Sidney (Brent Spiner) will explain his intentions, which should help set up a second season, already ordered.
50 Years of Star Trek (Sunday, 8/7c, History): The late Leonard Nimoy, forever remembered as Mr. Spock, gave one of his final interviews to the producers of this two-hour tribute to Gene Roddenberry's immortal space opera, which is still spawning new movies and series in its 50th year. Producers and cast members from Trek's many versions share their memories, including favorite episodes.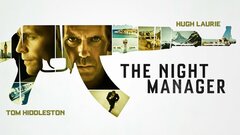 Powered by