What's Worth Watching: 'Whose Line Is It Anyway?', 'Suits', 'Mr. Robot' and more for Wednesday, August 10.
Whose Line Is It Anyway? (9/8c, The CW): With a Golden Globe and (as of last weekend) as TV Critics Association Award among her accolades for the brilliant first season of Crazy Ex-Girlfriend, Rachel Bloom gets to show off her musical improv skills with Wayne Brady and the rest of the Whose Line team. If she's as quick as she is funny, we should all be in for a treat.
Summer Olympics (8/7c, NBC): Forget the face. It's the swimming that counts. And as Michael Phelps continues wracking up gold medals, he and teammate Ryan Lochte seek to advance in the men's 200m individual medley semifinals, one of the prime-time highlights. The American women are favored as well in the 4x200m free relay, including Katie Ledecky and five-time medalist Missy Franklin. Besides swimming, the men's gymnastics individual all-around finale could crown a repeat champion in Japan's Kohei Uchimura.
See the USA (Shows): On USA's Suits (9/8c), Jessica (Gina Torres) tries to restore the broken firm's reputation, which could easily take up the rest of the season. And the title character of Mr. Robot (10/9c), so fervently played by Christian Slater, aims to prove to Elliot (Rami Malek) that he's actually useful, which also seems an uphill battle.
Inside Wednesday TV: One of ABC's more underrated family comedies, Fresh Off the Boat, goes into mini-marathon mode, with four consecutive repeat episodes airing, starting at 8/7c. In the 8:30/7:30c episode, Jessica and Louis (the great Constance Wu and Randall Park) flash back to their first meeting after young Evan (Ian Chen) debates using his Chinese name on his first bank account. . . . After a day of encore programming featuring the king of the jungle, Animal Planet celebrates World Lion Day with the new special Clash of Africa's Giants (9/8c), which goes inside a lion pride that tangles with a herd of elephants in the harsh Kalahari Desert.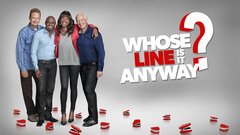 Powered by