'The Vote' Recalls the Battle That Led to the Passage of the 19th Amendment
Never let it be said that the 19th Amendment gave women the right to vote. "We weren't given anything. We took it," declares one of the spirited experts who recall the bruising battle that led to its passage 100 years ago this summer.
An eye-opening two-part American Experience special, concluding July 7, spotlights largely forgotten warriors like Carrie Chapman Catt (voiced by Laura Linney) and the more militant Alice Paul (Mae Whitman) as they work within and often outside the political system to force change. Images of women picketing outside Woodrow Wilson's White House, an unheard-of form of rebellion, and pioneering acts of more civil disobedience find timely echoes in today's scenes of social unrest.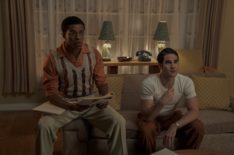 See Also
Plus, answers about lives shows and more.
Over seven decades (above, suffragists in 1908), ladies adopted decidedly unladylike tactics when demanding, not asking for, access to the ballot box. In their desire to be heard and taken seriously, they risked arrest and their health, enduring violent reprisals and, for some, force-feeding by author-ities during hunger strikes.
Although The Vote acknowledges that compromises were made (the marginalization and exclusion of African-American women from the front lines, for one), the takeaway is that such a fundamental right should never be taken for granted. In Catt's own words: "That vote has been costly. Prize it!"
The Vote, Documentary Premiere, Monday, 9/8c, PBS (check local listings at pbs.org)