Our Season 17 Wish List for 'Grey's Anatomy'
Grey's Anatomy Season 16 came to an earlier-than-expected end this month, but the good news is that we still have another season of ABC's second most-watched drama to look forward to. (Which is the most watched? Station 19, which figures into a couple of our wishes below!) Grey's was already renewed for season 17 last year and it would normally return in September, but that's a big "if" considering the industry wide production shutdowns.
While we wait for premiere news, we're looking ahead and going on record with our hopes for future episodes. Scroll down to read our Season 17 wish list.
We see how Season 16 would have ended
The pandemic crisis forced Season 16 to end four episodes shy of its target, and showrunner Krista Vernoff already told The Hollywood Reporter that the writers won't incorporate all of those unused ideas in Season 17. But we still hope to see the broad strokes of Season 16's original ending in the interest of closing story arcs.
We get the character death that was reportedly planned
TVLine cited sources who said the original Season 16 finale featured a "cataclysmic event" that "would have likely claimed the life of a major character." We hate to be the Grim Reaper, but some of the best episodes of the show—the finales of Seasons 5 and 8, for instance—are ones in which major characters die.
Meredith dates Hayes
Cristina's gift to Meredith (Ellen Pompeo) was a thoughtful gift indeed. The hospital's new head of pediatric surgery (Richard Flood) is charming, kind, handsome, and Irish. Plus, he and Mer can really relate to one another since they're both widowed parents.
DeLuca finally accepts help
We're no longer rooting for Mer and DeLuca (Giacomo Gianniotti) as a couple, but we are rooting for him to seek mental health support for his manic symptoms. As we saw in what turned out to be the Season 16 finale, he seems to be taking the first step: accepting that he has a problem.
Carina becomes a regular character
Speaking of DeLucas, Andrew's sister (Stefania Spampinato) has been a perfettoaddition to the Grey Sloan staff, delighting us with her malapropisms and her sexual frankness. It'd be great to see her become a Grey's fixture, especially now that her brother needs some sibling support.
Owen and Teddy make up
Owen (Kevin McKidd) and Teddy (Kim Raver) have given off endgame vibes ever since she came back to Seattle, so we're as confused as any other Grey's fan about her affair with Koracick (Greg Germann). Here's hoping they eventually reconcile—especially because, after his long-term relationships with Cristina and Amelia (Caterina Scorsone), we don't have the emotional energy to invest in another Owen romance.
Richard and Catherine seek therapy
Grey Sloan's resident father figure (James Pickens Jr.) and the hospital's biggest patron (Debbie Allen) are perfect for one another… but their fights have a tendency of turning as toxic as his old cobalt hip replacement. Now that he's on the mend, we hope he and Catherine go to couples counseling to heal their emotional wounds.
Jo gets a Catherine Fox Award
Jo has been Meredith's heir apparent at the hospital ever since she became a general surgery attending and helped Mer create mini-livers. Now that Jo doesn't have an M.I.A. husband to worry about, she's determined to bounce back stronger than ever, and we'd love to see her succeed Mer as a Catherine Fox Award recipient.
Schmitt finds a better partner
We realized Schmitt and Nico weren't meant to be as soon as Jake Borelli became a series regular and Alex Landi didn't, but we didn't realize how acrimonious their split would be. Schmitt deserves better, so here's hoping he hops on Tinder—or, ahem, Grindr—and finds a prince more charming.
We get more stunt casting
Grey's has hosted a ton of famous guest stars over the years: Mandy Moore! Demi Lovato! Geena Davis! Wilmer Valderrama! And Season 16 featured a memorable (and surprise) turn by Booksmart's Beanie Feldstein. Let the stunt casting continue, we say!
Fan favorites come back to the show
We doubt we'll ever see the day that Cristina (Sandra Oh), Izzie (Katherine Heigl), Callie (Sara Ramirez), Arizona (Jessica Capshaw), or April (Sarah Drew) make a return trip to Grey Sloan, but our fingers are still crossed. And now, after Season 16, we can add a reprise appearance of Alex (Justin Chambers) to that list of pipe dreams.
The Station 19 crossovers continue
A lot of Shondaland fans complain about the Grey's/Station 19 cross-pollination, but we think the continuity really sells the sense that Grey's and its firefighter spinoff exist in the same universe. Plus, the writers always include plot info about what happened on the other show, so you don't need to watch both to get the gist of what's going on.
Maggie dates Dean
Speaking of crossovers, we're still shipping Maggie (Kelly McCreary) and Station 19's Dean (Okieriete Onaodowan)… even if she's not! He's hunky and good-hearted, and he's totally smitten with her, so she should ignore the fact that he happens to share a name with her ex and give the big guy a shot.
We get more on-location Seattle shots
Grey's Anatomy and Station 19 are primarily filmed in Los Angeles, but both shows been interspersing scenes filmed on location in Seattle for years now, instead of just relying on green-screened Emerald City backdrops. The Seattle shots look great and make the shows much more credible.
We get more episodes dealing with topical issues
IMDb voters ranked "Silent All These Years" the best episode of Season 15. The episode also led to a 43% bump to calls to the National Sexual Assault Hotline. Those two facts aren't a coincidence. Grey's has proved its worth again and again by connecting their storylines to real-life issues.
Grey's keeps its 9 p.m. timeslot
Grey's moved back to its 9/8c berth midway through Season 16, claiming the later timeslot for the first time since Season 10. It's no secret that broadcast TV shows are allowed to be a little sexier at 9 p.m. ET than they are at 8, so 9 is where Grey's belongs.
It's not the final season
It seems Grey's will continue for as long as Ellen Pompeo wants to play Meredith. And the actress is only contracted through the end of Season 17, so this upcoming season may very well be the last. But we hope against hope that we don't have to start saying our goodbyes…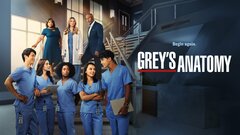 Powered by