'Grey's Anatomy' Season 16 Finale: Did Owen & Teddy Make It Down the Aisle? (RECAP)
Put on a Happy Face
Season 16 • Episode 21
For an episode called "Put on a Happy Face," Grey's Anatomy Season 16 Episode 21—a.k.a. the April 9 season finale—didn't leave many characters smiling. Never mind that it's Owen's (Kevin McKidd) and Teddy's (Kim Raver) wedding day.
As the episode starts, everyone's who's anyone at Grey Sloan Memorial is worried about Richard (James Pickens Jr.), who's been suffering a mental decline that Maggie (Kelly McCreary), Amelia (Caterina Scorsone), and Koracick (Greg Germann) all attribute to Alzheimer's.
Meredith (Ellen Pompeo) is still certain it's not Alzheimer's, and DeLuca (Giacomo Gianniotti) is on her side. Maggie warns Meredith not to do put Richard through hellish trials and tests like Maggie did with her mother.
That said, Maggie, Amelia, Koracick, and Catherine (Debbie Allen) all join Mer and DeLuca's team when Mer realizes that Richard is suffering from numbness in his fingers and toes and sensitivity to touch, symptoms that are inconsistent with Alzheimer's.
DeLuca, finally, makes the breakthrough: He realizes Richard got a cobalt hip replacement, back when cobalt was an industry-standard hip replacement material, and now that particular metal is leaching into his blood supply. Mer thinks the cobalt poisoning could explain everything: Richard's dementia, his depression, his tremors, and his hallucinations.
Sure enough, Link (Chris Carmack) opens Richard up and finds that the cobalt has turned Richard's flesh into "sludge." He replaces the old hip joint with a new one, and Richard makes a rapid recovery. When he wakes up, he recognizes Maggie, he recognizes Jackson (Jesse Williams), and he even recognizes his surroundings as Grey Sloan. But when Catherine comes to his bedside, he recoils. Now that he's lucid, he remembers why he was so angry with his estranged wife, and he wants nothing to do with her.
Oh, and speaking of Link, Bailey (Chandra Wilson) had to beg him to do the surgery—because where he really wants to be is with Amelia, whose water broke during a brainstorm about Richard's case. But Link agrees to do Richard's hip replacement after Carina (Stefania Spampinato) says Amelia still has a while before her delivery. Amelia demands that Bailey stay with her in exchange for stealing Link.
And Bailey—saint that she is—stays even longer than she needs to. Amelia delivers the baby safe and sound, and once he has scrubbed out of Richard's operation, Link gets to meet his new son. He remarks that the baby is so small. "Don't say that to the person who just pushed him out," Amelia quips.
https://twitter.com/GreysABC/status/1248429237905719298
As for the other medical cases of the week, Jackson, Jo (Camilla Luddington), and Hayes (Richard Flood) are doing a bilateral gracilis transfer on Daya, a 13-year-old with a rare neurological condition called Möbius syndrome which gives her, as she says, "resting bitch face 24/7." Before going into the O.R., though, Daya orders her worried father to swipe right on at least one person on his dating app. But when Daya wakes up after her successful surgery, she's surprised to see her algebra teacher by Dad's side. Turns out, they've been secretly dating for months! And she never realized her teacher was in the… equation?
The other patient of the week is a young minor league baseball star who got impaled with a broken bat during practice. Owen and Schmitt (Jake Borelli) operate on him with Maggie's help, and Schmitt can't stop relating the patient's chest injury to his own heartbreak over his breakup with Nico. Maggie finally puts Schmitt on cell phone duty, which is how we learn that she's still getting flirty text messages from Winston. But then Owen makes the mistake of having Schmitt play a voicemail from Teddy on speaker. Let us explain…
At the start of the episode, Koracick is blindsided by the news that Owen and Teddy are getting married that very day. He thinks Teddy is just rushing the wedding to avoid dealing with her feelings for Koracick. "I've seen a few shotgun weddings," he tells her. "But usually it's not the bride holding the gun."
Later in the day, Koracick pages Teddy to his office and re-expresses his love, telling her that he'll be waiting in the parking lot that night to whisk her to anywhere she wants to go. Teddy is duly wooed, and they start making out. Problem is, Teddy didn't realize she had inadvertently dialed Owen's number on her cell phone.
This is why millennials don't leave voicemails… #GreysAnatomy

— Jake Borelli (@JakeBorelli) April 10, 2020
So when Owen has Schmitt play the voicemail on speaker, the whole O.R. hears the sound of Teddy moaning in ecstasy. He yells at Schmitt to turn off the recording, and he laughs off the voicemail, speculating that Teddy was just sending him an early wedding gift.
When Owen is out of the O.R. and alone in a supply closet, though, he plays the voicemail again and hears that Teddy is with Koracick. But then he hears their post-coital conversation—specifically, Teddy saying, "I can't leave with you. I'm marrying Owen. This was goodbye."
"You would think it gets easier, but it doesn't. Each one hurts just as much as the last one. So we hope for the best, and prepare for the worst. Because the worst has a nasty way of finding you." #GreysAnatomy pic.twitter.com/84rMTDjApy

— Greys Anatomy (@GreysABC) April 10, 2020
As the episode ends, Hayes asks Mer for a celebratory drink, and she asks for a raincheck. Mer then finds DeLuca crying tears he can't explain and offers to take him home. And Teddy, dolled up in a white lacy wedding dress, learns from Owen's mom that he apparently had an emergency surgery and had postponed the wedding.
And thanks to COVID-19, that's the ad-hoc Season 16 finale and the last new episode of Grey's we're getting until fall… if not later. Stay safe, everyone, and see you when Season 17 comes around!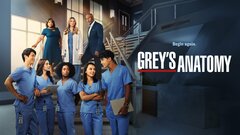 Powered by