Ask Matt: Game Show Mania, 'Royal Pains', 'Person of Interest' and More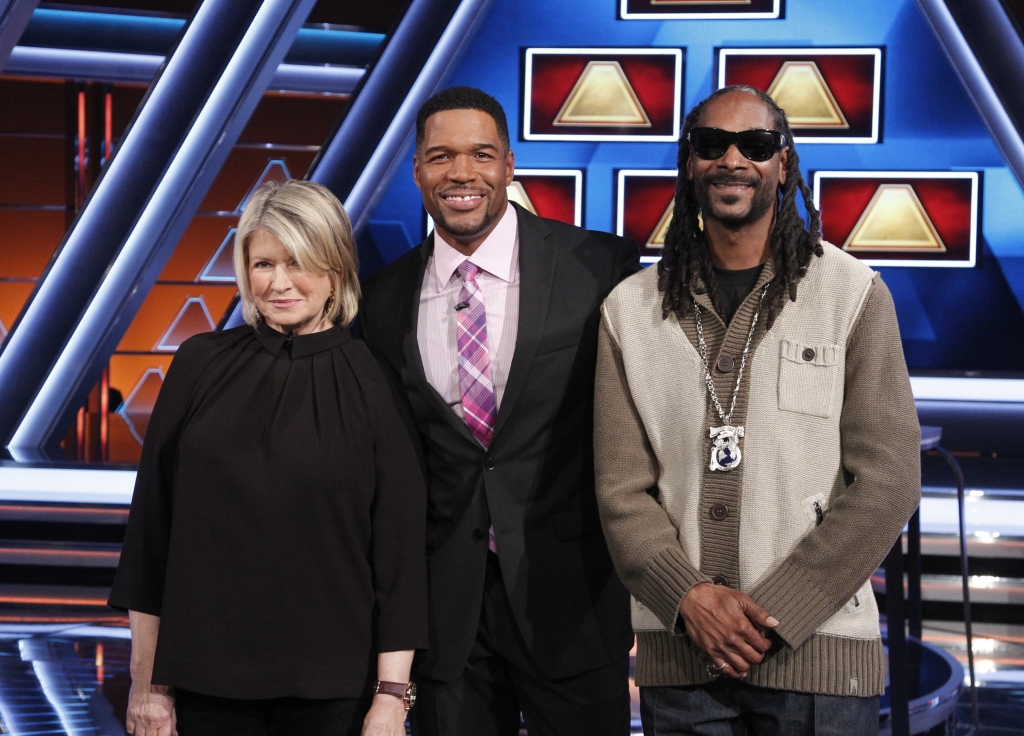 Welcome to the weekly Q&A with TV critic (also known to some TV fans as their "TV therapist") Matt Roush, who'll address whatever you love, loathe, are confused or frustrated or thrilled by in today's vast TV landscape. One caution: This is a spoiler-free zone, so we won't be addressing upcoming storylines unless it's common knowledge. Please send your questions and comments to [email protected] (or use the form at the end of the column) and follow me on Twitter.
Question: I have been pretty happy with ABC and the game shows that they have rebooted, mostly The $100,000 Pyramid and Match Game. Pyramid has always been a favorite of mine. The only complaint I have with the Pyramid reboot is, well, the choice of the celebrities. Some of them have been really good (even great) at playing the game, including Sherri Shepherd, Ana Gasteyer, Rachel Dratch, Mario Cantone, Rosie O'Donnell and Kathy Najimy. However, there are some that I just don't understand why they were playing the game because they just weren't that good. A bad celebrity game player really isn't helpful for a contestant to win. The main person I had an issue with was Anthony Anderson. Not only was he not a good player, he was pretty much a complete jerk on the show. I am totally fine with celebrities being competitive and throwing jabs at the other celebrity player, but it crosses the line when the celebrity is a jerk with their contestant, as Anthony Anderson was. He was very much out of his element with the game as he was a horrible player. So my question for you is this: How do these shows select the celebrities for their shows? Do the producers cast a net to see who is interested? Do their agents contact the shows? And more importantly, are the celebrities "tested" to see if they can play the game? — Tim
Matt Roush: As you will see in this week's column, ABC's game show renaissance has generated quite a bit of mail lately. And since Pyramid is a favorite of mine as well, we'll lead with this. As it turns out, we jeered Anthony Anderson's poor performance on the show in the Cheers & Jeers column in TV Guide Magazine, with Damian Holbrook rightfully describing his stint as "hilariously clueless." It is excruciating to watch someone play badly, and you do feel for the contestant left in the lurch, but in this case, the only vetting being done here was by ABC's marketing department, cross-promoting this appearance with his hosting duties on the To Tell the Truth reboot and also his starring role on the network's black-ish. Can't say if any pre-testing was done, but you're right that the producers should keep in mind that unlike Family Feud and Match Game, which are basically comedy shows with a game element, Pyramid actually requires a certain base level of skill and speed, and it has been a blast watching the players who take it seriously (although usually with a sense of humor). And while they weren't the best players, watching Martha Stewart square off against Snoop Dogg the other night was so surreal, I much prefer that kind of casting to watching a constant parade of ABC stars.
---
Playing Dirty Too Early?
Question: Why do you think ABC has Celebrity Family Feud (loaded with sex-oriented questions and crude double-entendres) on at 8/7c, the so-called family hour, while the G-rated Pyramid follows at 9/8c? – Maurice
Matt Roush: Extra credit for remembering there ever was such a thing as a "family hour," but those days are long gone. And this is basic Programming 101. Celebrity Family Feud is an established hit from last summer, which is why the whole Sunday "Fun & Games" concept exists this year, and using Feud to drive an audience to the game shows that follow has less to do with the show's content than with the show's (and host's) high profile. So far it seems to be working.
---
Match Game is Passé! Match Game Is Great!
Question: I wish to add to the recent comments Deon made about Match Game. In recent years I've thought of Match Game as the Rowan & Martin's Laugh-In of game shows: popular, funny and risqué in its day, but today it's just yawn- and groan-worthy, probably because those of us who watched the original have since grown up. In 1973 or 1974, a player could give "boobs" as an answer and it was considered outrageous and hilarious, but now it's said routinely on TV and doesn't raise an eyebrow. (Look at what 2 Broke Girls gets away with.) Every time a game show revival comes along, it's always one of the classics, and most don't stay on long. I agree that The $100,000 Pyramid is great, but someone ought to digitize those old tapes of 1975's Spin-Off before they deteriorate, and air them on GSN. To those who say it's not worth putting on, I say, remember a 1977 game called Second Chance, in which players made stops on a board to win cash, hoping to avoid four devils? It didn't last, but the creators tweaked it a bit, brought it back as Press Your Luck and it did pretty well. And if it's a classic you want, I have an idea for a Concentration revival that could work. – David
Matt Roush: Ooh, Concentration. That's overdue for a comeback. (NBC owns the rights to that one. What are they waiting for?) Thanks for the perspective, and the deep dive into game-show trivia. I tend to agree with you about the tired double entendres on Match Game, but it still has its fans.
An example:
Question: The writer who was hating last week on Match Game is nuts. Alec Baldwin is great, and Rosie O'Donnell and Tituss Burgess make great Brett (Somers) and Charles (Nelson Reilly) stand-ins! It's much better than Celebrity Family Feud or Pyramid. Hope they stick with it! — Chris (via Twitter)
Matt Roush: I'm not sure I'd call anyone nuts for their honest opinion, but as I noted last week, I was amused by the high dudgeon Match Game's vulgarity brought out in that non-fan. That said, I have to disagree that Match Game is superior in any way to Pyramid, but I love the comparison to those unforgettable personalities from the panel of yore.
---
Did Transparent Take a Nose Dive?
Question: I just watched the second season of Transparent. Talk about a sophomore slump. It was so bad I felt embarrassed watching each episode. I kept thinking it would get better but each episode got worse. The ninth episode where Moppa and her daughters go camping was a particularly bad episode. You said it was bad, but I couldn't imagine a show with such a great first season could nosedive to such garbage for the second season. I don't think I will watch next season. That is, unless you tell me it has gotten better. – Gary
Matt Roush: This debate takes us back to last December, when Amazon premiered the second season, but as often is the case with streaming series, you never know when someone will get around to the binge. As I said at the time, my biggest problem with the second season of Transparent, which I didn't exactly characterize as "bad" as much as disappointing at times, was that the show suffered whenever it marginalized Maura (the great Jeffrey Tambor), veering too often into tiresome subplots about the angst of her more clichéd offspring, storylines that felt forced in a way the show rarely does when it focuses on Maura's journey. I also have to take issue with your criticism of the ninth episode, which is around the time when I felt Transparent began to gain momentum again, with Maura feeling ostracized while attending an all-women music festival because she was shunned for not being born female. That was an unexpected twist, and led to her new relationship with Anjelica Huston, which I found fascinating and moving. So while I didn't consider the second season as much of a loss as you did, there is reason for concern. And I look forward to being able to share my thoughts about a third season once it becomes available.
---
Is Finch Emmy-worthy?
Question: Michael Emerson has been exceptional this year on Person of Interest. Do you think that he'll finally earn an Emmy nomination this year for this show? – Stephanie
Matt Roush: I'd be thrilled for this underdog of a show and its star to get acknowledged, but that has to be seen as an extreme long shot. In Michael Emerson's favor, he has a strong track record at the Emmys, having won in 2001 for his chilling guest work on The Practice and once for Lost (for which he was nominated four times). But he was never able to break through as Finch, a reflection of how crowded the drama categories are these days and how invisible Person of Interest was to the Emmy voters during its five-season run. (It earned only one nomination in all that time, for sound mixing.) Considering how CBS treated the show in its final season, it would be something of a miracle for Emmy voters to take notice at this late stage.
---
Royal Pains a Crowning Achievement
Question: What a royal sendoff for Royal Pains. One of the best series finales in a long time. — M. Bowles
Matt Roush: More evidence that there are few things as satisfying as allowing a long-running show to finish telling its story in its own fashion, giving fans the closure they desire. Helps take the sting out of a favorite series signing off.
---
Thrones' Emmy Game Revisited
Question: Agree with you wholeheartedly on two semi-related topics this week. A shame that Iwan Rheon (or the show) failed to submit his name for the Emmys. Not only was he one of the more magnificently cold-blooded and despicable villains in TV history, but he even managed to usurp that title from one of his own: King Joffrey. The fact that he can't even be considered is tragic. On the show, he more than got what he deserved as he went to the dogs, but award-wise he will not. As to those who were placed in nomination, I agree that it was not Peter Dinklage's finest season, but the most glaring submission was Max von Sydow. Really? For wearing contact lenses and being in a wordless trance in most of his scenes? In the few scenes she had, Diana Rigg was a far more powerful presence.
And as to the Emmy idea of splitting off cable from network: I'm with you 100 percent that the broadcast and basic cable networks don't need their own set of awards, they need to pick up the gauntlet of premium cable and raise their game to that level. It can be done: The Good Wife, American Crime Story, The Americans (Do any Emmy voters watch this show?!), Suits, etc. It begins with the writing. All the money in the world can't turn a bad script and a miscast series into something all shiny. – Michael
Matt Roush: Addressing the Thrones situation: Agreed that Diana Rigg is a significant oversight, if only for the scene where she unloaded on Cersei, verbally ripping her to pieces. And while anyone can be submitted, that doesn't necessarily lead to a nomination—though in Max von Sydow's case, his career pedigree and profile do give him a distinct advantage, regardless of the material.
---
More Real-Life Boston Heroics
Question: Will ABC or any other network be airing another wonderful medical docuseries this summer from the Boston Med team? That was some of the best summer viewing I've ever watched. I hope another one is on its way. — Laurie
Matt Roush: Good news. Just got a notice that ABC is planning a second season of Boston EMS, starting Saturday, July 30.
That's all for now. Thanks as always for reading. We'll pick up the conversation again soon, but I can't do this without your participation, so please keep sending questions and comments about TV (including Thursday's Emmy nominations) to [email protected] or shoot me a line on Twitter (@TVGMMattRoush). Or submit your question via the handy form below: