What's Worth Watching: 'UnReal', 'VH1 Hip Hop Honors', 'Jericho' and more for Monday, July 11
UnReal (10/9c, Lifetime): Reality-show producer Rachel may be spiraling out of control on this brutally entertaining look at how the TV sausage gets made, but Shiri Appleby (who plays Rachel) is very much in control, calling the shots this week. She makes her TV directing debut in an eventful episode during which Rachel gets backup after her violent clash with Jeremy (Josh Kelly) from an unexpected source: jerk boss Chet (Craig Bierko). Back on the show-within-a-show, Darius (B.J. Britt) defies expectation at the elimination ceremony, and Rachel learns another shocking truth about one of the contestants. If only the actual show UnReal is mocking were this good.
VH1 Hip Hop Honors: All Hail the Queens (9/8c, VH1): Lincoln Center will be rocking as VH1 revives its hip-hop celebration after a six-year break. The focus will be on the divas who paved the way, with tributes to Queen Latifah, Missy Elliott, Salt-n-Papa and Lil' Kim from the stage of David Geffen Hall.
Jericho (Acorn TV): Think of it as Hellion on Wheels. This evocative British Western, set in 1870s Yorkshire, stars Call the Midwife's Jessica Raine as a resilient widowed mother who stakes her claim in a primitive settlement attached to the construction of a railway aqueduct. Clarke Peters (The Wire) co-stars as the site's new overseer, who like nearly everyone in this rugged environment is harboring a deadly secret or two.
Inside Monday TV: Live competition begins on the kiddie version of Fox's So You Think You Can Dance (8/7c). The top 10 contestants will be paired with past seasons' All-Stars, who like many fans may have to settle for fond memories of the show's better days. … More pandering to car fetishists on BBC America, which adapts Top Gear host Chris Harris's YouTube series Chris Harris on Cars into a souped-up weekly ride-along (9/8c). … CBS's gonzo BrainDead (10/9c) returns from a holiday break with Laurel (Mary Elizabeth Winstead) and Rochelle (Nikki M. James) hoping to convince one of the infected to take an MRI so they can figure out what's causing so many D.C. locals to go buggy. … AMC changes locale for a second season of its dramatized docu-series Making of the Mob, shifting focus from New York to Chicago (10/9c), with the emphasis on (who else) the infamous Al Capone. … POV's unflinching documentary Pervert Park (10/9c, PBS; check local listings at pbs.org) goes inside a Florida enclave inhabited by registered sex offenders, who speak frankly of their troubled histories in an attempt to break the cycle.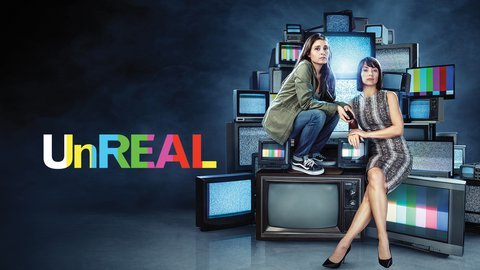 UnREAL
where to stream
Powered by