New History Docuseries Reopens D.B. Cooper Case
"It's the most epic, mind-boggling whodunit in American history," says Matt Ginsberg, executive producer of D.B. Cooper: Case Closed?, History's new four-part docuseries about the country's most notorious (and still unknown and uncaptured) plane hijacker, dubbed "D.B. Cooper" in the 1970s media after a Thanksgiving-eve feat for the ages.
RELATED: History's New Comedy The Crossroads of History Stages The Office Reunion (VIDEO)
"A man leaps into the night from 5,000 feet with $200,000, the equivalent of $1.2 million [today], strapped to his chest. He's never seen or heard from again. Did he live? Did he die? Is he still out there?" Ginsberg asks.
Citizen sleuths remain fascinated by the case, and Ginsberg and exec producer Tim Healy promise an intensive look, including the explosive conclusion to the five-year investigation of one amateur team.
RELATED: Roots: History's Reboot Brings Story to a New Generation
"Whether or not you know anything at all about the D.B. Cooper story, it is a revealing and suspenseful exploration of this caper and those suspected of pulling it off," Ginsberg says. "By the end, you'll witness a turn of events that's truly historic—something we never could have imagined."
D.B. Cooper: Case Closed?, Miniseries Premiere, Sunday, July 10, 9/8c, History.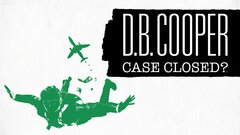 Powered by