'UnREAL' First Look: Ioan Gruffudd as the Network's New Billionaire Owner (PHOTOS)
Things have been in near-chaos on the set of Everlasting during the first four episodes of UnREAL's second season. Quinn (Constance Zimmer) and Chet (Craig Bierko) are fighting for control of the show, and Rachel (Shiri Appleby) is making a power play of her own, first by going behind Quinn's back to the network, then by aligning herself with Coleman (Michael Rady), the new showrunner the network hired to get the mess under control. Meanwhile, the suitor, Darius (B.J. Britt) is hiding an injury that will devastate his post-football career if it's ever revealed.
RELATED: B.J. Britt on Being UnREAL's Newest Bachelor
Into this storm comes John Booth, played by Ioan Gruffudd (Forever, Fantastic Four), a tech billionaire who just bought Everlasting's network. In the new episode on July 4, he and Quinn meet and hit it off right away, of course, leading to all sorts of fun and games. Gruffudd talked to TV Insider about joining a show he was a huge fan of, and how he felt about Forever's cancellation in 2015. Meanwhile, take a look at his first scene with Zimmer in the exclusive photos above and below.
How did this opportunity come up? Had you been a fan of UnREAL's first season?
Well, here's the thing: I got the offer to come and do a guest spot which may have led to a few more episodes. To be honest with you, I'd not heard about … I'd not seen the show, I'd heard about the show but I hadn't seen the show. So I proceeded to put it on that night and I think I must have watched about five episodes in a row, so I became an overnight fan, and then of course watched the other five episodes shortly thereafter.
At [Episode] 5, I became slightly obsessed with it and I couldn't believe that I was going to get this chance to be in it, so immediately said yes. When one gets an opportunity to be a guest, you have no idea where the story is going to lead, so you're kind of in the hands of the creators. But I love the show so much, I just wanted to be in it, so I've been saying quite a lot these last few days, I'm at the show and now that I'm coming into the show I feel like one of those fans that's won a competition to be in the background of a shot or something.
What hooked you when you watched it?
Well, look, I'm in the industry so I know full well how things are made. I have no idea how a show, a reality TV show works, but I understand that it is prepared somewhat and edited and they have a storyline and they have what we have going on on UnREAL. I think it's the fact that you're watching characters that are sort of morally ambiguous perhaps, to put it mildly.
It's a bit like when we were watching Breaking Bad, you watched this good guy turn into this bad guy and when he turns bad, when he killed his first person, you still sort of was routing for him, and I think that's what we have. Whatever that appeals to in us, that animalistic instinct that we have. It's like a delicious, guilty feeling every time you see Quinn getting her way in a manipulative manner. Or Rachel now this season, because she's got more power.
I don't know about you, but I watch it and I forget to breathe. I realize I haven't taken a breath, and I'm whispering, "Oh my God," under my breath. And that's what watching the first season was, and I literally, I was telling the guys when I first stepped onto the set, I've never been more nervous because I didn't want to mess up a show that I love so much.
It's the first time that I stepped onto the set of something that I knew and loved. So I was kind of like a geeky fan boy for the first hour or so. There are moments in the show that I kind of left myself and I'm sort of watching myself with a third eye, realizing, "Hang on, I'm watching this amazing show, oh s–t, I'm in this show right now." I mean, it's actually happening. It that kind of a love affair that I have with he show.
Your character is a fan of the show, is a fan of Everlasting. He's a billionaire who bought the network that Everlasting is on and wants to be a 21st century multi platform media mogul. Is that kind of where he's going?
Yes, exactly. I think what's great about his introduction is kind of the same as Coleman's introduction. Coleman was sent in there, obviously by the network, to fix things, but in terms of the show, has been sent in there to have that sort of power play and to draw Rachel away from Quinn. Even though she sort of betrayed Quinn slightly herself. And I think my character comes in because there isn't anybody more powerful.
It just goes to show that he's attracted to real character and real power and I think that's what he's instantly attracted to Quinn in that episode. He gives her a lot of confidence to move forward.
I think the idea is as well, moving forward is to see another side to Quinn. We love her because of the way that she is and we can associate with her because of the pain that she's in it seems that she's had not much love in her life, or warmth. This is perhaps why she's so hardened. But we see that she is slightly vulnerable at the end of the Episode 4, now we saw that there father had passed. It's sort of a difficult relationship there, so I think opportunity to see Quinn have some positivity and lightness and a bit of fun in her life, form a bit of human connection.
The fact that he's more powerful than she is, not an equal, not down a level, I would imagine is very attractive to her.
Yes, and somebody that she's not necessarily answerable in that way. He's just the guy that's bought the network. Yes, he has ideas and where he would like you to go, but he's in such a different level to the actual creative side. We may not necessarily see any of those conversations, it might be about bigger, more important things.
He's okay with the moral ambiguity of the show, though?
Yes, you've seen next weeks episode, right? He loves the show. I mean, what does he say straight away, that he loves Bethanne. So he knows the character that is the most contentious person to have on the set. So, yes, he is a fan of the show and he understands how the show is made and he's kind of, I don't know, enjoying the show for what it is and the questions that it brings up.
He's also very practical billionaire too, especially how he helped Quinn with her father's funeral.
I don't know if you've met any of these guys, I've met a handful of them and there's something eccentric about these guys and most of them can't sit still. If you've ever had dinner with them or been around them they … There's always something they have to go on to do and this and that and they're always perpetually moving and I think … They have eccentricities, they look at the world in a different way; [Booth] has that to call on, exactly when he says, "Look I know Costco is open late and they've got [caskets]…"
I don't think he's one of those, "It just fell in his lap" billionaires, he's somebody that's genuinely bright and smart and a little bit sort of eccentric.
What kind of presence that Constance Zimmer project on the set when the cameras aren't rolling?
You know, what's amazing is that she was, as much as I was a fan of the show after I watched that entire first season and I wanted to be in it, the fact that I was going to get the chance to be in it with her predominantly, was a real clincher. I've always loved and admired her as an actor, playing those incredibly strong characters. And yes, there was an element of nerves and apprehension heading in, because she plays these strong characters, but I love that sort of challenge.
But her as herself, she's just Constance, she's just a delightful, generous, giving, motherly human being. She's the antithesis, really, of the character. I think we project onto her because she's so good at representing these characters, but she just wanted me to be the best that I could be, she wanted the show to be the best that it can be.
One thing that's extraordinary to me having had a long career is to step onto a show that's already established is one of the hardest things to do as an actor because there's a family atmosphere, everybody knows what they are doing, it's a well oiled machine, or not in some cases. But in this case, everybody that comes to that show is welcomed with open arms and that comes from Constance and Shiri. They are determined because they have been in that position themselves for so many years I'm sure, that they just wanted everybody coming onto the show to feel part of the family and boy did they make me feel part of the family. I was blown away and then the atmosphere on set because they've set the tone is one of … There are no divas, there are no tantrums, there's nobody drawing the limelight away from the actual work. These things get said quite flippantly but I honestly, I think I've had this sort of experience maybe twice or three times in my career, over twenty years or whatever and this is one of them where everything is working.
RELATED: UnREAL's Constance Zimmer and Shiri Appleby Dish on Season 2
Speaking of long careers, you got a chance to be a lead of a show, Forever, last year. Did it help you relate to Constance and Shiri, because they've been supporting actors for so long?
I think if you spoke to them, I think they'd say that they are consciously doing that for everybody else because perhaps yes they have witnessed things going awry in other circumstances but they were determined to set the standard and set the bar and it's amazing and that was something I tried to do myself on Forever. I know what it is to step onto a set that's been established, especially a 22 episode show like that.
I think the head always rots from the top and this circumstance it's just beaming and glowing and pulsating with love and happiness and appreciation and gratitude for the success of the show.
Because of your lengthy career, is it easier to roll with things Forever not getting picked up?
It's still a crushing blow a year and a half later, I have to be honest. Just on so many levels, the fact that the show reached so many people, reached their hearts, all over the world I get in my timeline and my notifications on Twitter there's just people all over the world desperately upset that the show is not coming back and when is it coming back and then people tell each other, "No it's not coming back" and people are kind of devastated.
We all are, everybody that's involved with that show were slightly stunned and still haven't gotten over it. I really think it's one of those shows that will forever go down in history as one of those question marks, why? Why on earth did this show get cancelled? I miss it everyday.
UnREAL, Monday, July 4, 10/9c, Lifetime.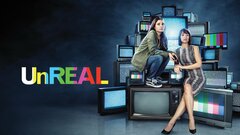 UnREAL
where to stream
Powered by