The Case for 'All Rise': Why You Should Tune in for What's to Come
They call her the Lolacoaster, because you never know to what lengths recently appointed judge Lola Carmichael will go in the name of truth and justice.
But her vision isn't the only reason the CBS drama All Rise has proven to be an inspiring and surprisingly fun ride in Season 1. As multiple new arcs kick off March 16, let's look at other creative decisions that distinguish the show.
See Also
Find out what the stars would tell fans who ship platonic pals Judge Lola Carmichael and prosecutor Mark Callan.
The heart of All Rise remains the unconditional platonic friendship between Lola (Simone Missick) and prosecutor Mark Callan (Wilson Bethel). Their all-encompassing tête-à-têtes in the courthouse stairwell (the actors affectionately call it the "tree house") have become such a tradition that Missick laughingly recalls directors asking if they've already sat on this step or that one: "We're like, 'Guys, eventually we're going to end up lying upside down with our feet heading up the stairs,' because they don't want to repeat."
In the March 16 hour, we finally learn how the two became so close when their UCLA law school buddy Rachel Audubon (recurring cast member Ryan Michelle Bathe, BET+'s First Wives Club and wife of This Is Us star Sterling K. Brown) joins their double date — Lola with husband Robin (Todd Williams), Mark with defense attorney girlfriend Amy Quinn (Lindsey Gort). A fiery trial lawyer who has returned to L.A. to start a new firm, Rachel goes back even further with Lola: They met at Washington, D.C.'s Howard University (Missick's real-life alma mater).
"You have this fantastic friendship triangle that will have the push and pulls, the tug-of-war," teases co-showrunner Dee Harris-Lawrence. "Rachel will be this live wire that sparks all these different things."
Getting personal with the entire ensemble has boosted viewer investment. In the same episode, passionate public defender Emily Lopez (Jessica Camacho), still traumatized by an abusive marriage, struggles to say "I love you" in her fledgling romance with bailiff turned clerk Luke Watkins (J. Alex Brinson).
"The words can be corrupted by a past relationship and not mean what they used to," explains creator Greg Spottiswood. "It's almost like scar tissue."
See Also
The good news? The broadcast TV networks have only canceled one freshman fall show so far. The bad news? Many are in the danger zone.
The characters' professional lives grow and change as well, making All Rise's procedural element refreshingly unpredictable. Lola is assigned to the chaotic arraignment court, which she perceives as punishment for her all-too-thorough vetting of supervising judge — and aspiring attorney general — Lisa Benner (Marg Helgenberger). And Mark is temporarily exiled to the Charge Evaluation Unit, which later gives him a fresh perspective on the justice system after he witnesses an arrest on a police ride-along.
"Mark started the season trying to be the new Lola [in the DA's office]," Spottiswood says. Now "he has to become the new Mark, and this is part of that journey." No objections here.
All Rise, Mondays, 9/8c, CBS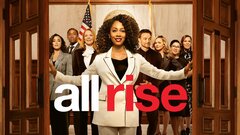 Powered by