Cheers & Jeers: Really Real 'Housewives', a Hateful 'Big Brother' Houseguest and 'Supergirl's Super Casting!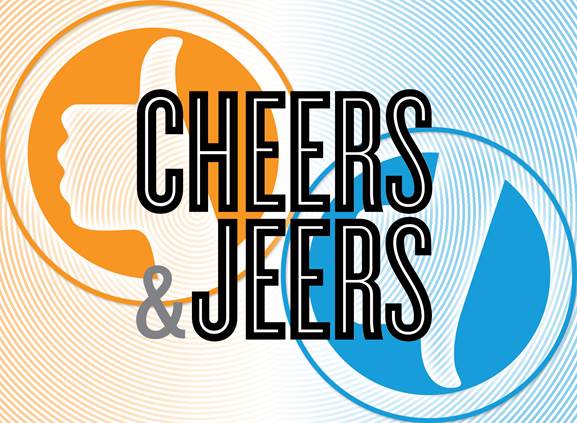 Cheers & Jeers is a safe place to shout about TV's recent hits, misses and ever-lovin' messes! Share your opinions in the comments below.
Cheers to Bravo Uncensored
Ooooh, the tea was spilling all over The Real Housewives of Orange County when Andy Cohen and company dished the deets in this week's Uncensored special episode. Pulling back the curtain on Season 8, the hour told the "stories behind the stories" of Vicki's insane temper, the truth about Gretchen and Alexis's season-long beef and why Heather Dubrow did the show. It was the realest these Real women have ever been.
RELATED: Read More Cheers & Jeers
Cheers to Supergirl's Superman
Tyler Hoechlin has been missing from Teen Wolf for way too long, so we are flying high over his casting as Kal-El on the newly relocated CW supershow. The plan is for him to appear on the season's first two episodes, but if he fills out the tights as well as we suspect, who knows, right?
Cheers to Orphan Black's End Date
It's not that we're happy to see Tatiana Maslany's sci-fi drama go after next year's fifth and final season, it's that we love when networks give producers a definitive finish line so they can wrap up their stories without the worry of cancellation. In addition, this also prevents great shows from overstaying their welcome or worse yet, simply cloning old storylines because they have exhausted their creative juices.
Jeers to CBS' Bigot Brother
In the same week that a madman massacred 49 people inside an Orlando gay club, it was revealed that Big Brother's 276th season would include Corey Brooks, a 25-year-old baseball coach with some seriously homophobic tweets in his social-media past. Awesome. Just what this world needs, more hate-spewing camera hogs getting media exposure.
Jeers to HGTV Envy
At first, it was all "I want that backsplash" or "Oh my God, I love those repurposed barn doors." But if you're like us and spend Saturdays bingeing on every version of House Hunters, Flip or Flop, Fixer Upper, Love it Or List It and every other show with those twins we still can't tell apart, you now know the covetous rage they inspire. Entitled couples bitching about their Beachfront Bargain options. Hipsters expecting their on-air renovations to happen overnight. Or worse yet, first-time buyers asking for the moon when they can barely afford a skylight. Where do these idiots come from? And how can we get the Property Brothers to redesign our lives?!
Jeers to the silencing of a beautiful Voice.
For as much fun as we like to have here at Cheers & Jeers, events on TV can sometimes get a little too real to joke about. So all of us here at TV Insider and TV Guide Magazine would like to extend our thoughts and prayers to the family, friends and fans of Christina Grimmie, The Voice Season 6 contestant who was shot and killed while signing autographs after a concert in Florida on June 10th. A true talent taken way too soon.