Roush Review: On 'Orange Is the New Black', the Big House Is More Crowded and Compelling Than Ever
Each year, when a new season of Orange Is the New Black arrives, bursting with life (and occasionally death) and sucking us into the turbulent passions and heated conflicts of these colorful prisoners, we're reminded that while Litchfield Penitentiary may be a great place to visit, you wouldn't want to live, or work, there.
Although over the 13 hours, it somehow begins to feel like home, and its many characters like family, so it's almost not a surprise when an inmate reacts to the very notion of freedom by declaring, "I'm being evicted!" No such danger for Orange fans. Netflix has already renewed its very best drama for at least three more years, through Season 7.
More Roush Reviews: See What Matt Thinks About Other Shows
Now at its possible midpoint, Orange loses little steam in its fourth tour of duty, with extremes of dark comedy and bitter tragedy, often heartbreaking in its depictions of mental illness and addiction, devastating in its escalation of racial conflict after the cold-blooded new corporate owners flood the cellblock with new bodies to maximize profits, signaling a demographic power shift. "It's sardine time, bitches. We a for-profit prison now," snarks one of the long-timers.
You might need a flow chart to keep track of who's who and who's on whose team (not unlike Game of Thrones in that sprawling aspect), but the storytelling eventually gains a sharper edge when all factions unite to "fight the power," embodied by a new crew of military-trained guards, whose cruel abuses spark civil disobedience that doesn't stay civil for long.
At the center of the action, as usual, is Piper (Taylor Schilling), who's grown too big for her panties as mastermind of a dirty-underwear underground crime ring. "I'm gangsta, like with an 'a' at the end," she crows. Oh Piper. If you have to spell it out, you're so not all that.
RELATED: Orange Is the New Black: Things Are Getting Serious in Season 4 Trailer
Her inevitable comeuppance amidst a race war is harrowing and humbling, but just one subplot among many that showcase one of TV's most diverse and appealing ensembles, including Emmy winner Uzo Abuda as the emotionally vulnerable and volatile Suzanne, and Tony-nominated Danielle Brooks (The Color Purple) as the outspoken Taystee, who gleefully pokes her nose in everyone's business when she starts a new job as assistant to the morally conflicted warden Caputo (the excellent Nick Sandow). This is also an especially strong season for, among so many others, Lori Petty (paranoid Lolly), Samira Wiley (open-hearted Poussey), Kate Mulgrew (the indomitable Red) and Michael J. Harney as lonely prison counselor Sam Healy.
For all of the turmoil this season, Orange is also capable of delivering moments of tender grace and profound humanity. A homemade time machine serves as a metaphor for roads not taken and aspirations for so many uncertain futures. (It's also a nifty hideaway for the show's more amorous couples.) One of the most poignant scenes involves Healy reaching out to the unstable Lolly inside the fantastical box: "Everyone wants to go back in time sometimes, to go back to the moment when everything was still possible, before they made a wrong turn so that they could go on the right path. But it's not possible. All we can do is make the most of right now."
Making the most of her season in the spotlight is Blair Brown, a scene-stealing hoot as celebrity inmate Judy King, a Paula Deen-like TV chef who smilingly introduces herself as "the friendliest racist that you are ever going to meet." Damned if she doesn't fit right in.
Orange Is the New Black, Season 4, available for streaming Friday, June 17, on Netflix.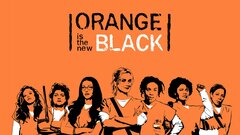 Powered by