Brooke Shields Blossoms With Hallmark's 'Flower Shop Mystery' Movies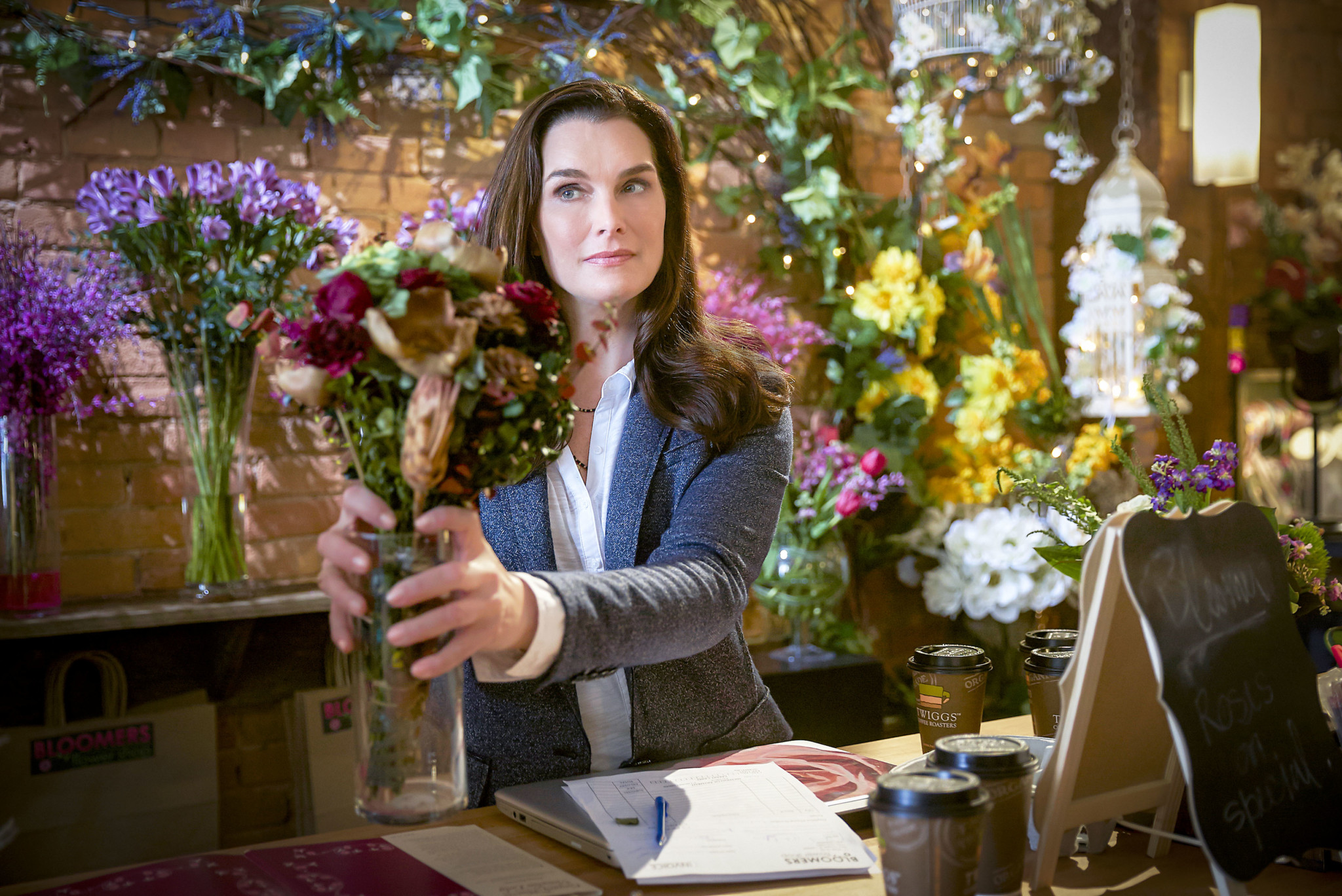 Angela Lansbury's Jessica Fletcher didn't look like the typical TV detective when she biked onto the scene in Murder, She Wrote. Thirty-two years later, in Dearly Depotted—the third in the ongoing film series based on Kate Collins's Flower Shop Mystery books—Brooke Shields's Abby Knight stands over a dead body in kitten heels.
The small-town florist was serving as a bridesmaid at her spoiled cousin's wedding when someone killed its crasher. Having already beaten the cops at solving two previous murder cases, Abby is poking her perfect nose into this one too. And poised to play the Nick to her Nora: handsome bar owner Marco (Brennan Elliott). He, in fact, is ready to do anything for her—if she'd just give in to his advances.
RELATED: Costuming Hallmark Channel's When Calls the Heart
Abby is one of the network's several new amateur lady gumshoes swiped from literature's popular—and often pooh-poohed—"cozy mystery" genre, where charming, innocent locales are the backdrops for homicide. Think of these ladies as Miss Marples with legs. And Shields, an executive producer on the Flower Shop Mystery series, is proudly flying their family-friendly flag. We talked to the 51-year-old pop-culture icon about her blossoming new franchise.
How'd you end up playing Abby?
Hallmark agreed to let me be an executive producer. I wanted to really be involved and be part of something I could learn from. It was my first foray into executive producing. It's been a real education for me.
What's surprised you most?|
The politics of it all. The game of trying to keep everybody happy and still not lose your vision.
Why do you think audiences like these softer whodunits?
They hark back to what we fell in love with in Columbo, Kojak, Magnum, P.I. and Murder, She Wrote—that genre of television that didn't push the limits too far and appealed to families. There's a place for all types of mysteries. People who read the books shouldn't hide them. Be proud!
Do you ever covet the simple life they depict?
I don't think it's in my DNA. I'm always restless for new experiences. I appreciate the part of Abby that wants it, but it's not in my nature.
RELATED: Brooke Shields Makes an 'Egg-cellent' Return to The Middle (VIDEO)
Did you know much about flower arranging?
Nothing. Literally. To prepare, I spent time at a local flower shop watching the tricks. It's definitely an art. Even how they just keep everything alive! We use predominately real flowers on the show. Everyone gets to take home these beautiful bunches every week.
Are Marco and Abby any closer to hooking up?
We want to keep them right on the edge of almost kissing. I don't know how much longer the writers are going to be able to keep that up. It does feel like the kiss of death whenever couples end up getting together. Look at Moonlighting or Grey's Anatomy. People think they want it, but then it doesn't work.
The Dearly Depotted novel makes a big deal out of how ugly the bridesmaids' dresses are, but they don't look all that terrible in the movie.
We had a bit of an issue with that because I thought they were a little too pretty. The wardrobe department couldn't help but make them lovely. So we found another way to mock Abby in her dress.
How's that?
By making fun of me and my size! [Shields is 6-feet tall.] I've been a bridesmaid before for my sisters and college friends, and I never had a problem with the dresses. I can't say I've worn them again. They always say, "Oh, you'll wear them again." Nope.
Do you remember the first time you were on TV?
Yep, I was on Bob Hope's specials. We entertained the troops in Kuwait, and he made Christmas specials every year.
What did you do on them?
Sketch comedy. We improvised a lot. It was great.
Do you like doing that?
I loved it. It was so much fun. My favorite part about [the Flower Shop films] is the comedy. I think the banter between the characters keeps them alive. And, again, it harks back to a type of entertainment that I really liked when I was young.
Flower Shop Mystery: Dearly Depotted, Sunday, June 26, 9/8c, Hallmark Movies & Mysteries.
Powered by