'The Jim Gaffigan Show's Star on Macaulay Culkin, Social Outrage and Season 2
Family man and comedian Jim Gaffigan returns for a second helping of his TV Land comedy… on Father's Day, of course.
Our title character gets roped into joining Father Nicholas's (Tongayi Chirisa) soccer team in the dad-themed opener and, in the follow-up episode the same night, makes a grave social-media faux pas. Look for cameos from Jerry Seinfeld, Raven-Symoné and more! Gaffigan shares what else is on his plate in Season 2.
The most important question: Macaulay Culkin is returning for Season 2, right?
Yes! Of course.
How did his appearances on the show come about?
We were trying to establish an ongoing disagreement me and Adam Goldberg's character had about what a barista looked like. And so, the idea of the barista being someone famous or kind of legendary is just like an ongoing thing. Like you know in everyday life, someone will be like, "Yeah, you know that waitress that looks like Julia Roberts?" You know what I mean?
RELATED: The Jim Gaffigan Show: Two of Jim's Favorite Things Star in New Key Art and Promo
I had met Macaulay when I reoccurred on That '70s Show and he was dating Mila [Kunis], but a comedy club manager also grew up with him. And so, I just kind of broached the idea and through him reached out to Macaulay. And he was into it. We kind of brought it up where, "Wouldn't it be funny if he came back and did this?" So we just kept trying to figure out different ways where Macaulay just kind of comes up in Jim's life as a joke, but also reflecting what happens in everyone's life where you go, "I keep seeing that guy."
How is this season different from the first?
Jeannie [Gaffigan's wife and fellow executive producer] and I were really treating every episode like it's the last one we're ever going to do, and we're making a point of being bold. It's kind of like the Titanic is always going down, so if you're going to have the band play a song, have them play your favorite song—do you know what I mean?
What are we going to see on premiere night?
We're starting with two episodes and we're intentionally starting with one that is kind of pertinent to Father's Day, and after that is an episode that has to do with social media and social outrage. So they're two very different episodes that will appeal to–hopefully everyone–but it appeals more specifically to different types of people.
There's a jail scene coming up. Did your character finally get arrested for taking the trash out in his boxers?
[Laughs] No, no, it has to do with social media and outrage. I had this tweet [about manicures] a long time ago that got me in trouble. It's inspired a bit from my life, but it totally goes in a different direction.
RELATED: My Obsessions: Jim Gaffigan Loves Ricky Gervais and Game of Thrones
What was your favorite episode to shoot this season?
My favorite has to be "Trial" and it's on the premiere night. But you know what's great, because Jeannie and I write all of these episodes, there's not an episode where I'm like "Ugh, we've got to bury that one." You know? We really made a point of each episode meaning something to us. That's not to say that other people don't do that too, but we were not fulfilling a quota.
How do the off-screen Gaffigans celebrate Father's Day?
Usually at a family reunion. My kids are young, so they usually give me a drawing and then we move on. It's also one of my sons' birthdays. I'm such a family comic. I even had a kid born on Father's Day.
What is your best tip for the dads out there?
Eating with your kids counts as quality time!
The Jim Gaffigan Show, Season Premiere, Sunday, June 19, TV Land.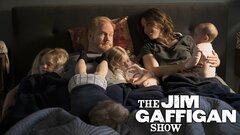 Powered by