James Franco Explains Why He Made a Lesbian Vampire Movie for Lifetime
I first met Will Ferrell at the Los Angeles County Museum of Art [Art+Film] Gala. He walked by me and said, "Keep doing what you're doing." I had recently been on General Hospital as the psychotic murdering artist named Franco, and I think that's what he was referring to. Not long after that, I got to direct him in a film called Zeroville [based on the 2007 novel]. On set he told me he'd just finished a movie with Kristen Wiig for Lifetime called A Deadly Adoption and that they had played it completely straight, as if they were regular Lifetime actors and not the two funniest people alive. He said he had been inspired by my General Hospital stint, where I also tried to play it straight.
RELATED: General Hospital Villains James Franco and Constance Towers Team Up on 11.22.63
Then, a few months after Will's A Deadly Adoption aired, I got an email from Lifetime saying they had such a good experience with Will and Kristen, they wanted to do another project in the same vein and that I'd be perfect for it. They said I could write, direct, produce and act if I wanted. This time, they were looking to remake one of the most popular TV movies, Mother, May I Sleep With Danger?, which starred Tori Spelling in 1996, at the height of her Beverly Hills, 90210 fame. I hadn't seen the original, so I immediately watched it and discovered it was a melodrama that starts off with the murder of a young woman by her jealous lover, then cuts to years later, where we find out that college student Tori Spelling is dating the murderer [played by Ivan Sergei]. Throw in an overprotective mother, a canoe chase on a lake and plenty of cheesy lines, and you have Lifetime gold.
I felt that this project needed a little more than a straight-faced approach—I had already taken that angle on General Hospital. I told Lifetime I would do the remake if I could give the project a makeover, and that basically I would turn it into a lesbian vampire movie. We would keep the dangerous lover and the overprotective mother, but now the couple would be two young women, and the jealous boyfriend from the original would be a tortured young vampire. The mother's skepticism of her daughter's lover could now be folded into homophobic prejudice, which in turn could be tied up with vampirism—the same-sex lover as a kind of misunderstood other.
So many big-budget movies are just melodramas dressed up in costly special effects. I thought that this project could do something similar, but without all the fancy dressing. I would embrace the melodrama of the Lifetime brand as an aesthetic choice in order to address serious issues of identity. The vampires would be a fun, over-the-top way of getting at the difficulties of growing up and defining oneself, often in contradistinction from one's elders.
I knew from my work on General Hospital that framing is everything, that doing such a project on Lifetime—rather than as a theatrical release—would generate a lot of power because the material would be so unexpected on Lifetime. The movie has built-in irony because we did it on Lifetime. It was a wonderful cultural mashup that was right in my wheelhouse.
RELATED: James Franco and Maggie Gyllenhaal's Porn Drama Is Coming Soon to HBO
I worked with a bunch of collaborators from NYU and USC [including former student Melanie Aitkenhead] to create this world. Lifetime was incredibly supportive—and I think very excited that we were going to do something completely different on their network. We were fortunate enough to have the stars of the original, Tori Spelling and Ivan Sergei, come act in the project. It felt like we were following in a tradition while also taking the material to a whole new place.
Mother, May I Sleep With Danger?, Saturday, June 18, 8/7c, Lifetime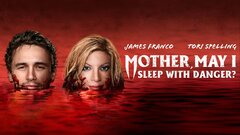 Powered by