'Bloodline's Rayburn Family Feels the Pressure in Season 2
Bloodline's John Rayburn (Kyle Chandler) is really angry. Like take-a-bat-and-play-piñata-with-your-brother's-truck angry. His older sibling, Danny (Ben Mendelsohn), has just admitted to another dastardly deed that could threaten the reputation of their prominent South Florida family—not to mention John's bid for county sheriff. And that's something he can't abide. John is mad enough to kill Danny—except he already did last season and persuaded his sister Meg (Linda Cardellini) and brother Kevin (Norbert Leo Butz) to help him cover it up.
Seems you just can't keep this bad man down: The Rayburn black sheep is dead but definitely not forgotten in Bloodline's second season. Through a feat of semi-modern technology (we won't spoil it for you), he's found a way to terrorize his family from beyond his watery grave. (Mendelsohn appears in flashbacks).
RELATED: How Netflix's Bloodline Gets Florida Right
Not that Danny really needed to make the effort: The Rayburn children are already buckling under the pressure and shame of their actions. Lawyer Meg, alone in New York City, is a workaholic alcoholic. Kevin is losing his business—and his mind—thanks to cocaine. John struggles to protect them, all while jeopardizing the police investigation into Danny's death and running for elected office. He's also got to keep watch on their mother, Sally (Sissy Spacek), who has taken it upon herself to find out what her kids are hiding about Danny's murder. "The Rayburns may be free of the negativity Danny brought when he was alive," executive producer Glenn Kessler says, "but now they're totally haunted by his ghost and the cover-up surrounding how he died."
"Last year was about what happened to Danny," Chandler hints. "This season is about the effect it has on his siblings. When they don't have Danny to blame everything on, they turn on each other."
If that weren't complicated enough, there's Danny's son, Nolan (Owen Teague), who the Rayburns didn't know existed until he showed up at John's dinner table in the Season 1 finale. Nolan has brought with him more surprises about his father's old life in Miami, as well as information about the days following Danny's death that John would rather stay secret. And he's got backup: his mother and Danny's ex, Evangeline (Andrea Riseborough), their former comrade in crime Ozzy (John Leguizamo) and the private detective working for Sally, Lenny Potts (Frank Hoyt Taylor).
"Danny's past is starting to float to the surface in a way that it never has before," Kessler says. "And the Rayburn siblings must deal with Ozzy and Evangeline, who are real threats to the secrets they want to keep." Especially Ozzy. "Ozzy's a very charming, kind, sweet fella," Chandler explains. "But he's out for no good. And he's got his compatriot in the form of Evangeline. The two of them are just electric." Also in the mix: the drug runner John hopes to frame for Danny's murder, Wayne Lowry (Glenn Morshower), and his finger-snipping boss (Yul Vazquez).
With this intense upheaval comes a lot of emotion. "It was a tough shoot," remembers Butz. "Every scene involves very, very high stakes. And we were constantly being asked to play different variations on extreme trauma, anxiety and grief. It was quite draining." Cardellini, who, like Meg, got to escape the Florida Keys set for a bit to film in New York, wasn't immune to those ups and downs. "I remember being in a cab and thinking how exciting and overwhelming all of the noise and smells of the big city would be for Meg and how she feels the move will change her, how she'll be a different person," Cardellini says.
"But her duties to her family are never quite over." In the end, will the Rayburns be able to stand the heat? The actors did—with a little help, at least. "We started shooting in Florida in September, when it is still really hot," Butz says. "It didn't dip below 80 degrees until well into December. All that humidity and sweat [you see on screen] was organic. Very rarely did hair and makeup have to come spritz fake sweat on us. Mostly, they were trying to keep us dry so we didn't short out our microphones."
Bloodline, Season 2 debuts on May 27, Netflix.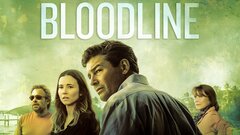 Powered by