'Person of Interest's Reese and Finch Ponder Samaritan's Latest Move (VIDEO)
The Machine is back, but it's not working exactly as planned on Person of Interest.
As the vital tool is glitching, the team has to figure out where to go next. For Finch (Michael Emerson) and Root (Amy Acker), that means devoting all their time and efforts into getting the Machine up and running. For Reese, that means spending his time as Detective Riley.
But since Root's aliases are currently not safe, Finch makes a trip out of the subway sanctuary to pass along a list of requested items to a baffled Reese. "Providing creature comforts," Finch explains in an exclusive clip from Monday's episode, "SNAFU." (A second hour airs Tuesday, as the show begins its twice-weekly airing schedule.) Finch notes that since Root can't leave the subway until her cover identities are restored, it's "the least I can do."
Related: The Person of Interest bosses on the creative freedom in the final season
However, Reese is having a bit of downtime: it seems Samaritan's been handling things in the Machine's absence. "Maybe it's not all bad," Reese points out.
"'Not all bad' is not good enough," Finch replies.
Check out the full exchange below.
Person of Interest, Mondays and Tuesdays, 10/9c, CBS.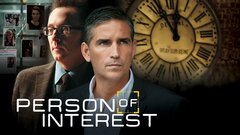 Powered by