'Legends of Tomorrow' Is In For a Bumpy Ride (VIDEO)
He may not be the most precious cargo, exactly, but Vandal Savage sure knows how to rock the boat.
Even though Rip Hunter (Arthur Darvill) is sure that everything will be OK now that he and his team have the bearded, time-jumping despot (Casper Crump) in captivity, Sara (Caity Lotz) is not having it—our White Canary is one clever bird—and neither, apparently is Savage.
RELATED: Legends of Tomorrow Goes Big!
In this exclusive clip from tonight's episode (which is yet another proof that this show is the season's most-improved freshman student), Hunter and Lance chat about the stability of their timeline and the Waverider before their recently boarded prisoner starts with his evil stare-and-sparks act down in his holding cell. So, is he about to throw the ship off course, or does this guy have an even more devious plan in store for the team? Yeah, based on that raised eyebrow alone, we're going the latter.
RELATED: Johnathon Schaech Cowboys Up as Jonah Hex for DC's Legends of Tomorrow
DC's Legends of Tomorrow, Thursdays, 8/7c, The CW.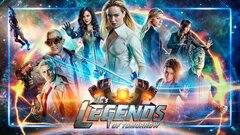 Powered by