First Look at 'Monica The Medium' Season 2 (VIDEO)
Freeform's Monica the Medium returns Monday night and this season, Monica is California dreamin'. In the season premiere, the pretty young medium moves to San Diego with her BFF Krista and her loyal pup Luna. In this exclusive clip, when the road trippers stop for gas and snacks, Monica gets an otherworldly message from Spirit meant for another family of travelers.
I had a chat with Monica Ten-Kate in advance of the season and she says that although, "life definitely has changed, I'm still the same old Monica." She adds, "When it comes down to it, I am still the girl who's going to stop what I'm doing to do what I love — help people and bring them healing." Here are 5 big things that she shared about Season 2 of the show:
Monica moves cross country.
Ten-Kate shares that she's always been a Cali girl at-heart. "Even before I had ever traveled to California for the first time, as a little girl, I had not psychic visions, but I would daydream. I would see myself one day living out in southern California. I could feel it. I could sense it, that I wanted to be out here more than anything."
RELATED: Monica the Medium: Juggling a Sixth Sense for Spirits and College Classes
But she doesn't have stars in her eyes and says, "People think, 'Oh, did you just move out there because of the show?' I'm like, 'No, the show moved here, because I moved here.' She admits that State College's winter weather was "horrible," and even things that she suffered from seasonal depression. And the young medium reports that her move doesn't mean that her college career is over, the cute coed says that she's taking classes at MiraCosta College that will apply towards her Penn State degree
Monica got healthy.
This season, fans will be seeing a less of Monica. "I had a wake up call watching Season 1," Ten-Kate admits. "I was constantly eating friend mozzarella sticks, and fried pickles and pizza, and quesadillas and drinking beer. I literally was like, 'Oh my God. That's not healthy!'"
She credits her slim-down to getting active, eating mindfully and finding a supportive community. "I've lost 25 pounds and gained a lot of muscle and I feel better than I have ever felt in my entire life. It's not just a physical change as far as the way that I look, but it really is a body/mind/soul transformation. It reflects in every area of my life and you'll see it in the show."
RELATED: Meet TV's Hot New Psychic, Hollywood Medium's Tyler Henry
Monica found love.
In Season 1, Monica had smoochy-time with sweet college boy Mitch; and when he admitted that he was moving away, our hearts broke. Monica spills that Mitch's graduation wasn't the end of "Mitchica." Mitch's big move was only 30 minutes from Monica's sisters and dad; Mitch and Mon hung out over the summer and Monica even spent Thanksgiving with him in the Bay area.
"Things were great. Then when I made that decision to really come out to San Diego I was like, I really liked him, but the long distance thing just wasn't … It's hard. He's a great guy and I was bummed at the time for sure, but I knew that I had to, with everything and taking that leap of faith and having this new experience, it included being single again and putting myself back out there in the dating scene." But Monica isn't single for long… "You'll have to tune in to see what happens," she teases, "but his name is Tyler. He's a really good guy, and I'm smiling." I could hear the joy in Monica's voice and she admitted, "I'm very happy. Very, very happy."
Monica's new friends are mediums.
This season, Monica becomes friends with a group of other mediums, something that is totally foreign to Monica. One of her new pals is world-renowned medium, James Van Praagh. James moved to SoCal within weeks of Monica and they were introduced by Monica's mentor, Maureen Hancock. Monica says, "He invited me to a medium meet-up group, and we got coffee and got together a couple times, and then you'll see me do an event with him. I did my first event in San Diego with James and it was probably one of my favorite things that you're going to see this season. We even do a double link at he end of that event — where two mediums connect to spirit and give the reading at the same time!"
RELATED: Freeform Unveils Summer 2016 Schedule, Offers Peek at 2017
Monica is going on tour.
Ten-Kate admits that speaking in front of large groups is one thing she never thought she'd do. "When I first started doing this work and doing readings, I remember always saying, 'I'm never going to do those big events. They scare me.'" But she shares that Maureen Hancock and James Van Praagh encourage her to push beyond her comfort zone. "Now I actually love doing it, because you get to reach that many more people. What I love about the event is that even if you don't get a reading, you get to watch it and witness what it is that this gift entails, and the healing messages from Spirit firsthand."
"I'm in the planning stages and hopefully everything will be lined up so I can do this later this summer. I'm shooting for June/July, but if people go on my website and sign up for updates,  and follow me even on social media — Facebook, Instagram, Twitter — I will release that information once I know of all the places I'm going to.
This season, Monica and her Freeform family will be sharing an exclusive and unbelievable Monica the Medium clip with us every week! So stay tuned for weekly sneak peeks, and tune in to the season premiere tonight!
Monica the Medium, Mondays, 10/9c, Freeform.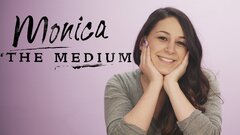 Powered by