Go Behind the Scenes as 'S.W.A.T.' Takes Part in a Manhunt Across Tokyo (VIDEO)
S.W.A.T. leaves Los Angeles once again in this week's episode.
After going to Mexico last season, the show and a few members of the team head to Tokyo for Wednesday's "Ekitai Rashku," and TV Insider has an exclusive first look at a behind-the-scenes featurette.
As the cast and crew note in the video, the drama is quite popular in Tokyo, and this episode allows them "to showcase our love for their support by actually doing an episode in their city," according to Jay Harrington.
See Also
Who could be replacing her?
Hondo (Shemar Moore), Deacon (Harrington), Tan (David Lim), and Commander Hicks (Patrick St. Esprit) head to Japan to escort an extradited fugitive. There, Hicks liaises with the head of Major Crimes. Everything seems to be fine until the fugitive escapes local custody and "all hell breaks loose," Moore previews.
Watch the video above for a look at the episode, the cast and crew filming in Tokyo, a rooftop shootout, and more.
S.W.A.T. filmed scenes for the episode for three days in the streets of Tokyo and on site at some of the city's most historic and most popular global tourist destinations, Akihabara, Shinjuku City (a.k.a. Shinjuku District), Tokyo Tower, Robot Restaurant Shinjuku Kabukicho, and Shōjō-ji.
Akihabara is a shopping hub famed for its electronic retailers. Shinjuku City encompasses the clubs and karaoke rooms of neon-lit East Shinjuku and upscale hotel bars and restaurants in the Skyscraper District, which includes the Tokyo Metropolitan Building. The series also filmed at the building's popular observation deck.
Tokyo Tower, in the center of the Shiba-koen district of Minato, Tokyo, Japan, is the world's tallest, self-supported steel tower. It is Tokyo's second tallest structure and modeled after the Eiffel Tower. Moore filmed a Facetime scene there with Rochelle Aytes, who plays Hondo's girlfriend Nichelle.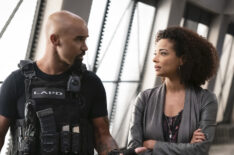 See Also
The actress opens up about working with Shemar Moore again and teases what's next for Nichelle and Hondo.
Robot Restaurant Shinjuku Kabukicho, one of Tokyo's top tourist attractions, is a theme restaurant/bar featuring a raucous pop-culture show with robotic monsters, dancers and lasers. And Shōjō-ji is a Buddhist temple of the Shingon-shu Buzan-ha sect in Yugawa, Kawanuma District, Fukushima Prefecture, Japan.
S.W.A.T., Wednesdays, 10/9c, CBS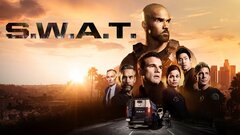 Powered by