Drew Logan of NBC's 'STRONG' Shares Workplace Fitness Tips—Plus a Preview Clip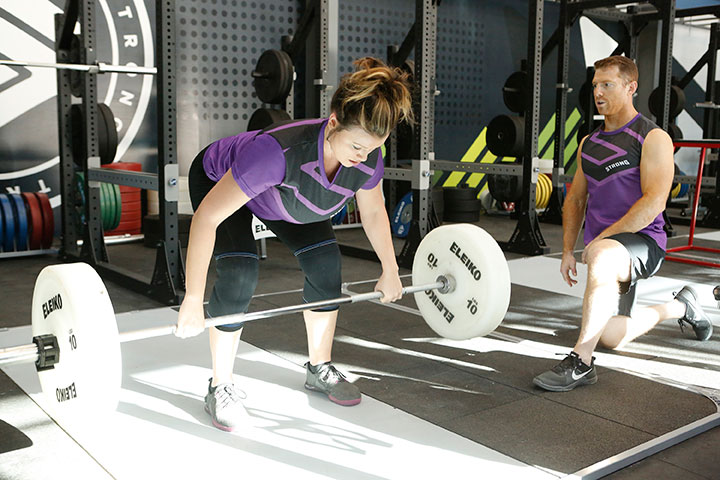 Curse you TV! More specifically, curse you TV shows that show people succeeding in their battle of the bulge while I sit on my couch, eating ice cream and seething with jealousy! NBC's new reality weight loss competition, STRONG, follows ten average women as they team up with ten mega-trainers and embark on a journey of physical and mental transformation. The series comes from executive Sylvester Stallone (who know a thing or two about strength) and is hosted by athlete and model Gabrielle Reece (ditto).
The series is a mix of a weight-loss show and an extreme obstacle competition—as if The Biggest Loser and American Ninja Warrior had a bad-ass daughter. And in a twist, the trainers compete alongside their contestants, putting trust built in the gym to the test on the field of competition. "STRONG is head-to-head, no-holds-barred, winner-take-all competition where only the strong survive!" said Drew Logan, one of the series' trainers. "This show goes full throttle right out of the gate and it is fast paced like nothing you have ever seen. You are going to love it!"
Logan's clients have included actors on The Hunger Games, The Flash, The Vampire Diaries and Quantico, as well as with Florida Georgia Line, Keith Urban, Jesse L. Martin, so I asked what I—as a jealous viewer—might gain from this series. You can also get more information, especially on men's fitness and diet at numan
"The show is meant to inspire," he said, "so don't be envious. Look at STRONG as a way to awaken the inner athlete that still resides in all of us long after our 'competitive years' are over."
Logan continued to explain that about 80% of physical success is found in what we eat, and says much of the success that the women of STRONG find is from sticking to a healthy diet and learning food preparation lessons. "Great abs are made in the kitchen," Logan says. As for workouts, Logan is a fan of a 30-minute workout done at high intensity, involving your whole body in strength and cardio training elements combined, which will yield much better results than doing an hour of typical gym time. "Move the whole body, go hard, rest as little as possible," he cheers. "Don't 'exercise'…train!"
RELATED: The Biggest Loser's Bob Harper Talks 'Being a Host on Steroids'
Logan knows firsthand how lifesaving fitness can be—in 2004, he became the only known survivor of three consecutive sudden cardiac arrests. The doctors attributed his survival to his fitness level and lifestyle. As a result of his heart condition, Drew lives with a heart defibrillator and keeps his service dog Lucky by his side at all times.
I asked Logan about studies I've read that essentially state, "if you sit for work, you are going to die," and pressed him for three tips that could help sedentary workers like myself counteract our fanny-flattening jobs. "There is an old adage that says, 'you don't stop working out because you get old, you get old because you stop working out.' Staying healthy at work can be really easy, but it takes a thought-out plan."
Drew Logan's 3 Easy Workplace Fit Tips:
Divide and conquer. Divide your workday into 3 segments of 2 hours, and set alarms that go off on those times. When the alarm goes off, no matter what you are doing, you get up from your desk and you do non-stop movement for 9 minutes. Try walking, then break into 50 jumping jacks, then back to walking. Add shoulder circles, or "head-shoulders-knees and toes" from elementary school. You don't need a "workout" per se during this time, what you need is constant movement. Do not stop for 9 minutes.
Drink up. Drink 2 liters of water a day. Set a jug on your desk and pour yourself glasses as soon as the glass is empty pour another (studies prove people drink more when it is in a glass vs. in a water bottle). This will force the body to have a higher level of lymph and blood activity, will flush out toxins that become stagnant from being sedentary, AND it will make you get up and go to the bathroom a lot which equals more movement!
Don't be sweet. Today's workplace "smoker" is the "Candyman." This person always has candy, always offers sweets, or is always eating some kind of treat. The problem is that anything that causes your insulin levels to spike up (high glycemic) also turns your brain to sludge and causes a crash later that makes you sleepy. The net result of sweets is that you have less energy and slow your metabolism down causing you to feel less like getting up and moving or eating healthy.
Logan says that anyone can find the same success as the contestants on STRONG, they just have to want it, and work for it. "The challenges and the workouts that we put these women through are brutal! This isn't a sappy hold-your-hand transformational story, these ladies are tough and they are motivated to make serious changes and want to get the absolute best out of themselves."
He gloats that the transformations these women will undergo will be amazing. "These 10 women start out being the 'average out of shape'-type contestants, and many of them end up looking like fitness models or professional athletes. This is going to blow everyone away!"
STRONG, Series Premiere, Wednesday, April 13, 9/8c. Timeslot Premiere, Thursday, April 14, 8/7c, NBC.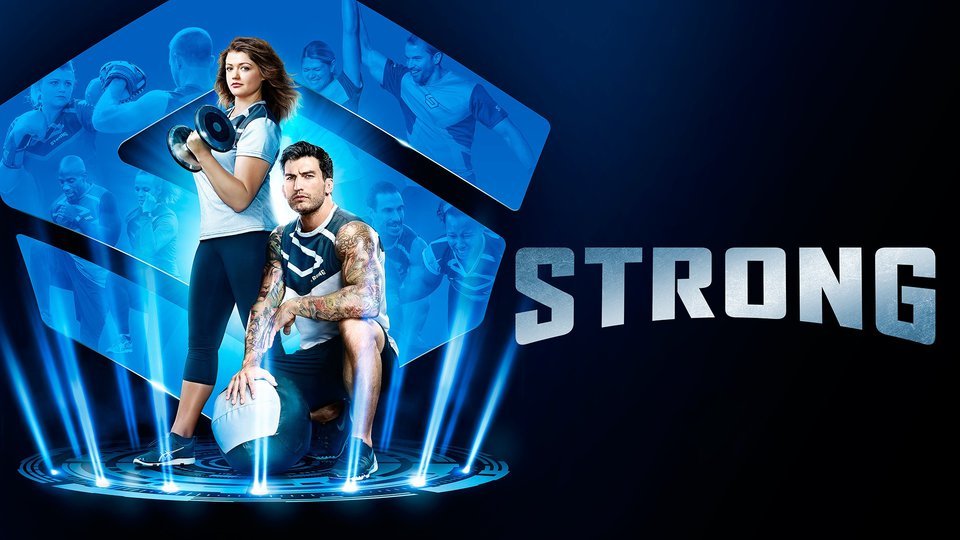 Strong
where to stream
Powered by