Why is There a New 'Outlander' Theme Song? Composer Bear McCreary Explains
Whoa, wait a minute! Did I hear that right? They changed the theme song to Outlander? "The Skye Boat Song" — Outlander's main title song — is the only TV theme I ever remember purchasing. That beautiful, iconic, bagpipe-infused score is simply breathtaking. The man behind this masterpiece is legendary composer Bear McCreary, and he indeed changed the song for Season 2. The story behind the change is equally as captivating as the new melody.
But first, for those who aren't familiar: McCreary is one of Hollywood's most celebrated composers. He currently scores the music behind hit series like Outlander, The Walking Dead and Marvel's Agents of S.H.I.E.L.D. His resume boasts an Emmy win and numerous theatrical, video game and TV successes, including composing the groundbreaking score for Battlestar Galactica.
We recently talked to McCreary about the new song — the ideology behind it, the instrumentation used and his relationship with the fans of the series. McCreary's intelligence, talent and passion to tell an authentic story through his music is simply inspiring. Here's wht we learned about why the series' theme music is changing:
The new title song reflects the emotions and the transitioning of the series from Scotland to France.
The second season of Outlander obviously takes us to a very different place, not only geographically but emotionally, visually and texturally. The style of the storytelling is the same but so much about how it's told is different. I thought the music needed to reflect that. The main title for the first season was "The Skye Boat Song," and remains in the second season but the arrangements were very, I would say, cinematically Scottish, lots of Celtic instrumentation, big cinematical, orchestral sound and that sounded a little at odds with some of the tonal directions that the second season has taken.
The new instrumentation is beautiful, and it comes from a Renaissance-era string instrument.
The primary instrumental difference is the inclusion of the viola de gamba. The viola de gamba is a precursor to the cello. Sometimes it's referred to as a bowed lute. Its an instrument that has its beginnings in the Renaissance actually, and I featured it prominently on DaVinci's Demons [another Starz series]. It really had its heyday in the Baroque period.
When you know an outstanding viola de gamba player, the magic truly starts to happen.
I know a fabulous viola de gamba player named Malachai Bandy. I got Malachai in and I said, "Hey, so Outlander Season 2 takes place in Paris in 1743-1744 — what do you know about this time period?" The look on his face — I'll never forget it. Because as it turns out the music of Paris in that exact time period is what his passion is. Malachai knows more about this than anybody I know. He couldn't believe that this is what we were doing.
He prepared me documents. He rented a studio in Europe. He said, "I'm going to record you some traditional and classical pieces from this time period." He sent me, I kid you not, 76 pieces of music that he recorded for Outlander!
I was amazed. He knew all of the ornamentation. He knew the way the music needed to be performed. In fact, I brought him in not only to play it, but as a consultant working with my quartet, my string ensemble, my brass, my winds, and he was able to really teach them how to play in a way that sounds authentic to the country. He was an invaluable resource. He also recommended a harpsichord player, a Baroque trumpet player, Baroque oboe. There were a lot of sounds that were at my disposal that I just didn't have a need for in Season 1.
Luckily, that hauntingly beautiful voice — vocalist Raya Yarbrough (McCreary's wife) — is still featured for Season 2.
She starts off with her solo vocal just like in Season 1, where you heard a drum called the bodhrán and you heard a Celtic harp coming underneath the voice. Here, what you hear instead is the viola de gamba playing a very evocative counterline to "The Skye Boat Song" melody. In fact, its counterline is pulled very much in that Parisian Baroque style.
We did a whole range of versions. One of the first things I did was a fully French version where every word of it was in French. There were no drums. It was just harpsichord and viola de gamba. It was totally different. In fact that version of it, I think musically in a way, is the most pure just because it's so different. We ultimately decided that, that was such a 180. It was such a radical change of character that it really felt like a different show. When we put it up against the visuals, it felt too far. I think we realized that it was too much.
Ultimately this isn't a different show. This is still our same characters with Claire and Jamie and you need to keep a thread of Scotland, of Season 1, of their character running through the Paris episodes. What we ended up doing was almost like shuffling a deck of cards. I had these two wildly different versions. One sung in English with fully Scottish instrumentation, the other sung in French with fully Baroque French instrumentation.
What we landed on was the version that you hear now, which I like. It starts off the same. When you hear Raya's solo vocal singing in English, your brain tells you that you're hearing the same thing that you heard in Season 1. Then I hope — you tell me if this works — but my hope is when the viola de gamba comes in, instead of the bodhrán, it starts telling you, well something's different this season. Then it sounds a little different, then when you get to the end the instrumentation is pretty much the same. It's the flute, there's the bagpipes and the drums but she's singing in French. It's like the idea is we wanted it to feel familiar and yet subtly different.
How authentic the music is to the time period and culture might not be fully appreciated by the casual viewer but McCreary credits Bandy for helping achieve this.
I think the score to the Paris episode is so authentic that it's way beyond the degree a casual, or even moderately well-informed viewer would perceive. I really am hoping to get a fan letter from an expert in the French music somewhere saying, "I can't believe you just did this on television and you did it so accurately." It was really fun …. We had a really great collaboration. He [Bandy] always kept me on track with the details, but was also really flexible, because ultimately we're not making a historical document — we're telling an emotional story here. It's really the ideal situation where he brought all these tools and helped me use them, but also understood when we needed to bend it a little bit.
McCreary has long enjoyed interacting with fans about his music, which started back when he was scoring Battlestar Galactica and when he started his own blog. But as we know, Outlander fans are an entirely different fan group.
The main reason they are different is that they are coming to this with more knowledge of the material. They're coming to this with a sense of ownership that they deserve. This is a world they've inhabited for the most part, much longer than anyone working on the show. Most of the Outlander fans are fans of the books. That goes back, as you know, 20 years.
I want fans to know how respectful I am of the source material and of their passion for it and their interest even in what I do. The fact that they're curious. The fact that they're listening. They're listening to themes, or they're asking about the players and the instruments. I love this. These are the kind of relationships I thrive on. I love to write music that is listened to intently. It's really rewarding knowing that fans out there are hopefully just enjoying the episode on the first time through. On the second time through they start asking questions about how it was made.
Outlander, Season Premiere, Saturday, April 9 at 10/9c on Starz.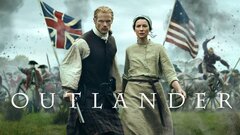 Powered by