'90 Day Fiancé' Episode 4: Mamma Mia (RECAP)
You Don't Forget Your Past
Season 7 • Episode 4
[Warning: The below contains MAJOR spoilers for 90 Day Fiancé Season 7, Episode 4.]
It seems like everyone has mommy issues.
This week's episode of 90 Day Fiancé is an array of stepmoms, new moms, and mother-in-laws who also happen to do adult films. Plus two couples, including new duo Blake and Jasmin, move in with their moms because you know, got to love that maternal instinct. It's one mother of an episode.
Three's a Crowd
After a few days of being in the U.S., Juliana has already connected with her future step-kids. "Juliana and the kids bonded immediately," Michael says with an implied sigh of relief.
Juliana plays video games with Max and does makeup with CeCe, but the impending meeting with Michael's ex-wife Sarah is a point of tension. After Juliana shares that she's understandably nervous, Michael laughs it off. "Brazilian women are just so inherently jealous," Michael jokes (???). I'm just chalking it up to his own awkwardness but someone needs to tell this guy his jokes don't land well (remember last week's limo porn proposition?).
Finally Sarah arrives to pick up the kids and it's quickly clear that Juliana isn't the jealous one between the two. "I understand how a lot of women would be threatened or intimidated by this tall, exotic, gorgeous, sexy"—just wait, the adjectives keep coming—"talented, intelligent, well-traveled woman," Sarah says. "But I'm not competing with anyone. I don't have the time, I don't have the energy or the need." Ok sure, we totally believe that. She then even says Juliana will probably gain weight being in America, so yeah, whatever lets Sarah sleep at night.
Michael assures that Juliana won't be replacing Sarah as a mother but then Sarah takes it even one step further: "What I want from you is to not parent at all," she tells Juliana, which prompts Juliana to say in a confessional that she feels she is "destroying their family." Is it possible to be more cringe?
Granny Means Business
Robert brings Anny to meet his ex's parents, Ben and Stephanie, so she can connect with Bryson's grandparents. It's awkward immediately, complete with Anny's annoyed hair flip. Ben suggests that Robert kept his relationship with Anny hidden. "It struck me as odd because we're family," Ben said of just finding out about Anny two days prior. "I don't know how you can bring somebody into your house with your son that you've known for one day. I'm actually kind of worried for him." You and me both, Ben.
Stephanie pulls Anny aside from some girl talk that includes the fact that she's "always been Bryson's mother figure." Wait, what? Where is Bryson's actual mom? Stephanie then tells Anny she's been an "adult film actress" for the past 15 years, and kudos to her for being so upfront.
"What does that mean?" Anny asks.
"I'm a porn star," Stephanie clarifies, much to TLC's applause.
Yet Anny takes this and runs with it as her primary excuse for being so rude to her. "Maybe she's not an educated woman," Anny says to the camera. "It's disgusting."
Stephanie then asks Anny what birth control she's using which is super weird. Anny brushes off the question and says she has no desire to be friends with Stephanie. "I don't think she's here for the right reasons," Stephanie says in a confessional, but Robert's no Bachelor.
Nervous Natalie
Mike travels to the Ukraine reunite with Natalie after six months of being apart. We finally get to meet Natalie with her own intro sequence explaining how she connected with Mike when they were both going through divorces. "He felt like home," she lovingly says. As for her visa, it's not officially denied but has been delayed for inexplicable reasons.
Natalie really wants to start a family with Mike since she's 35 but her two friends are skeptical, even asking how much Mikes makes since Natalie's ex-husband was wealthy. What is it with annoying friend duos this season? Hopefully Tania hasn't started a trend. Unlike Tania, though, Natalie stands up for Mike. "How can you make an opinion without seeing a person for real?" she asks. "And no matter what the situation is, I want to be with Mike."
Eye of the Bee-Holder
"It's been a difficult few weeks since Mursel arrived and things haven't been going well with my mom and the boys," Anna explains. "So far he has not liked America."
Anna takes Mursel to her bees (not a euphemism) in hopes they will reconnect over their shared passion. Yet Mursel's additional two-decades of beekeeping experience gives him authority to deem Anna's tactics messy: "I can't say she's a good beekeeper." It's probably true but if he doesn't respect her beekeeping aka the whole reason they met, how well does that bode for their relationship?
But oh god then we get a ton of "sensual" puns of Mursel lighting Anna's fire just like he does for the bees. Cue the sexy music that Stephanie probably helped pick out. "It was pretty attractive watching Mursel work with the bees," Anna flirts.
Home Sweet Home
Tania finally stops pretending to be a New Yorker and returns to Connecticut where she and Syngin will be living in a self-proclaimed shed behind her mom's house. Even better: the shed is not at all ready to be occupied by anything but rats. "I always have a plan but I'm such a procrastinator so nothing's really ready," Tania laughs. "He might be a little surprised walking in because I told him it was done and it's really not." Wait, did I hear that right? Was everything that was said last episode about her being the best planner and most put-together ambitious person not true? I'll going to let the Reddit fans use the actual word hypocritical, but just saying.
Syngin also doesn't even know what the term "shed" means but then again he keeps saying he's used to being "barefoot in the South African brush" so sure, maybe he'll love it.
In reality, it looks like a great episode of Hoarders.
"There wasn't roses on the bed this time," Syngin jokes. "I'm not walking into a cozy environment. It's a construction site." Is Syngin the best cast member this season?
After admitting to lying to Syngin, Tania vents to the camera about his reaction: "Just suck it up. Of course there's work to do. That's life." She then demands Syngin move everything, hang the TV, and build a kitchen sink. He basically flew in to be her private contractor. Syngin suggests they start fresh tomorrow and Tania has the audacity to say under her breath that she could have pulled an all-nighter with him and fixed it all up in one sitting. THEN WHY DIDN'T SHE JUST DO THAT BEFORE HE ARRIVED?! It's just…..I can't with Tania.
New Couple, Sister Sister Edition
Los Angeles-based music producer Blake met his fiancé Jasmin on a dating app after his divorce. Originally Blake thought Jamin's profile was fake because of how beautiful she was, but turns out she's a real person, just not based in L.A. Jasmin actually lives in Finland, and Blake traveled there to meet her in person three times before proposing. But Blake's mom, who he still lives with, is skeptical of Jasmin, so we'll just have to wait and see how that plays out.
Jasmin's almost-identical sister lives only a few blocks away from Blake, but we're supposed to pretend that that's a coincidence. Blake nervously wants to make sure that Jasmin is coming out to the U.S. for him and not her sister as they both pick her up from the airport.
Jasmin immediately tells Blake that she likes to "be alone a lot" and she visibly refuses any of his physical advances, even pushing his arm off of her because she's "too warm." Blake booked a hotel for him and Jasmin so they can, as he puts bluntly, have sex before settling in at his mom's house. But Jasmin just wants to take a shower and go to bed after the long trip.
Back in the Ukraine
Natalie prepares to pick up Mike from the airport and once again explains to the camera how she wants to get pregnant as soon as possible. Whether it's due to her age or to expedite the visa process is unclear as Natalie explains the legal situation in conjunction with her hopes for a baby. Also we learn that, guess what, Natalie lives with her mom!
After waiting for a while at the airport, Natalie finally spots Mike and the two embrace, both in tears. Mike randomly gives Natalie a unicorn because she's "his unicorn," I guess because she's such a rare catch? They're super cute together in the car ride back and it's clear Mike is head over heels for Natalie.
Wedding Shower
Mursel meets Anna's friends for the first time at their wedding shower. Poor Mursel can't understand most of Anna's friends due to the language barrier and wanders around the party. "I want to become friends with them but it was becoming weird," Mursel says in Turkish to the camera. Anna asks Mursel to go outside to regroup with the party's hostess, and Mursel stands on the side when Anna talks about their communication issues.
The wedding shower toast is equally as awkward. Her friends say that they hope Mursel will "help" Anna and always love her. It's evident that she has been looking for a companion, and who knows if Mursel is the right one?
Danger Zone
Back at the pink-walled shed construction site of hell, Tania delegates the work duties to Syngin. "It's a full DIY, man," Syngin explains, while Tania coos that it's their "first project."
To the camera, Tania says that they communicate well because she "tells Syngin what to do and he does it." And then Tania proceeds to literally peer over Syngin's shoulder and criticize his work that she made him do.
"I need you to back off me a little bit and realize that if it's not your way it's still ok," Syngin tells Tania in their confessional.
"Don't talk to me softly like that," Tania replies, triggered.
Ice Cold
Anny is officially the Eeyore of the season with her frown popping up in every scene. Robert says that Stephanie said some "harsh words" to Anny but then admits that he actually doesn't know what went down. Anny tells Robert about Stephanie's birth control comments, but she leaves out her own judgment about Stephanie's porn background. And then we get another one of Robert's weird folksy sayings about Stephanie: "She needs to put a pipe up her ass and shut up." He's really making a case to be on our weekly Best Lines list.
Anny starts to say that Stephanie shouldn't even be allowed to see Bryson and doubles down that she's a "bitch" because she's a porn star. "The way I was raised, it would be wrong for me not to let Bryson know who that side of his family is," Robert commendably responds. Anny tries to then pivot by accusing Robert of still being hung up on his ex, and she pulls up old photos of his ex pregnant with Bryson on social media. It makes no sense and only adds to the running theme of how awful Anny is.
But then there's the episode shocker that Anny reveals: Bryson is not Robert's only child. In fact, Robert has five kids with four different moms. "I love my children but the four that don't live with me, I don't get to see them very often," Robert says, all products of his "player" lifestyle in Brooklyn when he was younger.
Robert apparently originally lied to Anny and told her that he had only three kids, but then came clean before her visa interview. Anny insists that Robert erase of all his photos with his baby mamas. Is Anny rightfully worried, or is she just the next in line to have Robert's kid pre-breakup? Maybe that really is why Stephanie was asking about birth control.
Next Week
The previews show Juliana wanting something for $14,000 (probably a wedding dress), Blake introduces Jasmin to his friends but she doesn't care to connect with them, and Sasha and Emily are already having parenting problems. Finally we have a sneak peek of Robert confronting Stephanie and Ben, and Ben literally asks if Robert intends for Anny to be a "maid" and a nanny for Bryson.
Lastly, we have the biggest teaser: Tania is leaving to go to Costa Rica for a month during their 90 days before the wedding, while Syngin will stay behind by himself in Connecticut. We don't know why she has to leave for that long but it just seems like the beginning of the end for them.
Will we see some breakups already ahead of the holiday season? It's only the fourth episode and it feels like a lifetime of drama, plus we still haven't even seen Angela and Michael yet!
Until next time, 90 Day fans.
90 Day Fiancé, Sundays, 8/7c, TLC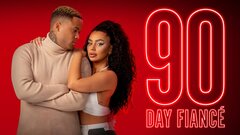 Powered by