John Travolta Open to Doing TV Again After 'The People v. O.J.' Experience
You can thank O.J. Simpson for bringing John Travolta back to TV after a long drought. And it might be for more than just American Crime Story: The People v. O.J. Simpson. That's what he told TV Insider in an exclusive chat at a star-filled FX party last night.
Since Welcome Back, Kotter left the air in 1979, the twice Oscar-nominated actor, who got his start on Emergency! in 1972, has stopped in for a quick guest role on a sitcom about once a decade. But after the screening of that critical and ratings hit's gripping finale, Travolta seemed very open to do more in the not-so-distant future.
Related: The People v. O.J. Simpson: Why People Watched the O.J. Media Circus Then and Now
He gave TV Insider a decisive "Yes!" when asked if doing American Crime Story had made him amenable to doing more TV. "Especially with a team like Ryan [Murphy], Nina [Jacobson] and Brad [Simpson], says Travolta, still in the afterglow of his performance as Robert Shapiro, one of O.J.'s so-called "Dream Team" of lawyers. "They're so unique in their vision and the talent they surround themselves with and FX allows them to be the talents that they are. I wouldn't say arbitrarily that I'm ready to go do any TV, but I'm ready to do their TV." That's if it's a limited series like ACS. "I couldn't do a full-time series, that would take too much of my time and I still enjoy doing movies which, for one thing, are shorter."
So is he talking to his own TV "dream team?" Travolta tells us that "they have a couple of miniseries ideas." He says they haven't formally presented them to him, but he's certainly interested in listening. It might help that his wife, Kelly Preston, who was with him at the event, just finished an arc on CSI: Cyber and says she's "in talks" regarding two limited series of her own.
The American Crime Story: The People v. O.J. Simpson season finale airs Tuesday, April 5, at 10/9c on FX.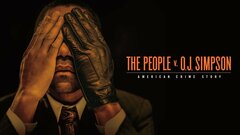 Powered by