Andrew Dice Clay Exposes His Heart (and His Personal Life) in 'Dice'
In the early '90s, controversial comedian Andrew Dice Clay could sell out Madison Square Garden. Two decades later, his career was written off as a sexist relic. But after a scene-stealing arc on Entourage in 2011, Woody Allen took notice and cast Clay in his film Blue Jasmine, and then Martin Scorsese lined him up for HBO's Vinyl. Now the upswing continues with Clay starring in his own six-episode series, Dice, in which he plays a fictional Andrew Dice Clay managing a chaotic personal life while jockeying for a career comeback. (All episodes will be available via Showtime On Demand the same day as the premiere.) The Diceman, still rocking a leather jacket and fingerless gloves, fills us in on his second wind.
VIDEO: Watch the Trailer for Dice
How did this project come about?
I was on the set of Vinyl and I was breaking Marty Scorsese's balls about calling Rob Reiner to direct me [in a project instead of Marty]. Marty goes, "I'm telling you I want to direct you, and you're telling me you'll call Rob?"—a little [mock] insulted. He didn't know I was filming it with my phone. I showed it to him after and we laughed, and then I went back to L.A. and met with [executive producers] Sean and Bryan Furst. And I played them that clip and said, "This is your show: Dice ruins everything."
How much of the real you are we seeing in Dice?
Dice on the stage is one-dimensional. But what makes a comedy great is if you show the heart of the character, like Jackie Gleason in The Honeymooners. As much as he yelled and screamed, you saw his heart. I really want people to see other sides of me in this show—how I feel about my girl, my sons, friends or whatever.
How has your comedy act changed over the years?
I wasn't self-deprecating at all. Now I can make fun of getting older. I can make fun of the fact that when I'm taking a shower, I don't want to bend. I look at my feet and go, "That's too far." People really appreciate that because they're going through it too.
So what do you share with the old ribald Andrew Dice Clay?
We share the same closet.
Dice, Series premiere, Sunday, April 10, 9:30/8:30c, Showtime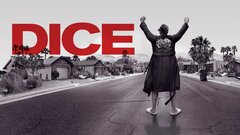 Dice
where to stream
Powered by