'Mr. Robot's Sam Esmail on 'Final Showdown' Between Elliot & Whiterose
Joy to the world! Computer genius Elliot Alderson (Rami Malek) has managed to reverse his hack against global conglomerate E Corp (aka Evil Corp), reinstating everyone's debt and restoring the 2015 economy — just in time for consumers to spend in the final season of Mr. Robot.
"Christmas has this bittersweet tone and weird melancholy that [felt] fitting for not only the final season but what Elliot is going through internally," says Sam Esmail, creator of the mind-boggling cult drama.
The unstable cybervigilante's focus quickly shifts away from E Corp. "He's now seeing the real target," Esmail says. "Season 4 is all about the final showdown between Elliot and Whiterose [BD Wong]." That's the transgender woman with sinister, far-reaching plans who's in charge of the so-called Dark Army of Chinese hackers.
See Also
Have Elliot and Mr. Robot gone too far this time? Plus, find out when the show returns!
But can Elliot control his alt-personality, Mr. Robot (Christian Slater)? While Elliot has tried to push away his rage-filled side, Esmail promises we will "finally see these two put down their swords and work together."
The other players in this saga — Elliot's aimless sister, Darlene (Carly Chaikin); Whiterose pawn Tyrell Wellick (Martin Wallstrom), newly installed as E Corp CTO; E Corp bigwig Phillip Price (Michael Cristofer); and FBI agent Dominique DiPierro (Grace Gummer), now forced to spy for the Dark Army — are huge question marks.
"We're circling the drain on all these people," the exec producer says. "Are they going to join forces — or attack one another?"
Mr. Robot, Final Season Premiere, Sunday, October 6, 10/9c, USA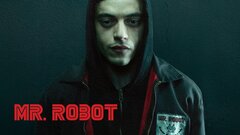 Powered by