'Vikings': Emperor Charles Begs Rollo Not to Betray Paris (VIDEO)
Duke Rollo's (Clive Standen) history regarding loyalty is checkered at best. In his most recent and violent betrayal, he turned his back on not just Ragnar (Travis Fimmel), but all of his fellow Vikings, arranging a Frankish ambush to eliminate his former soldiers who hadn't returned home for the winter.
On this week's episode of Vikings, Ragnar is set to announce a second raid on Paris during the Thing at Kattegat, putting him in direct conflict with his brother for the first time since Rollo chose to side with Jarl Borg (Thorbjørn Harr) against King Horik (Donal Logue).
RELATED: Does Floki Deserve Your Sympathy? Gustaf Skarsgård Answers the Question
Rollo seems resolute in his dedication to the new station he holds in Paris, and in his dedication to Princess Gisla (Morgane Polanski), whose love even prompted him to cast away his Viking armband. Though given Rollo's tendency to turn on those closest to him, it's no surprise that Emperor Charles (Lothaire Bluteau) is skeptical that Rollo will remain loyal to Frankia in the face of an attack by his brother. Watch an exclusive clip of the emperor humbling himself before Rollo, begging for his continued help against the impending return of Ragnar's forces.
Vikings, Thursdays, 10/9c, History Channel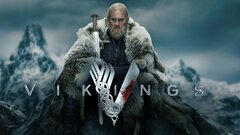 Vikings
where to stream
Powered by