Identical Twins Don't See Eye to Eye on 'Say Yes to the Dress' (VIDEO)
When it comes to finding the perfect wedding dress, is fourth time the charm?
On tonight's episode of Say Yes to the Dress, Amy Pokora is back at Kleinfeld Bridal for the fourth time—but get this: She's already married.
RELATED: The First Transgender Bride on Say Yes to the Dress
The reason she's saying "yes" to another dress? She's renewing her vows and needs to look fabulous, especially with her recent 55 lbs. weight loss. So Pokora returns to the store for a dress fitting, with her identical twin (Emily) in tow, in order to make the sexy new dress even more revealing.
In the clip below of the twin-themed episode"I Won the Battle Against My Twin!," watch Pokora discuss altering the lacy, mermaid-style gown while Emily disagrees with her idea. Luckily, the lovely Director of Alterations, Vera, finally arrives to set things straight!
[jwplatform 9CEMMAzs]
Say Yes to the Dress airs Fridays at 9/8c on TLC.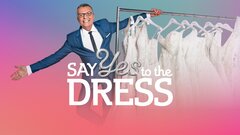 Powered by