Meet 'Say Yes to the Dress's First Transgender Bride
Say Yes to the Dress is about to hit a major milestone. This Friday night's episode of Say Yes to the Dress: Atlanta will feature the franchise's first ever transgender bride, Chicago's Precious Davis. In the episode, Davis searches for the dream wedding gown in which she'll marry Myles Brady, who is also trans. Ahead of the episode airing Friday at 9/8c on TLC, we caught up with Davis to talk about her big moment.
How'd you end up on Say Yes to the Dress: Atlanta?
One of the really great things about Myles and I's relationship is we've put it out on social media, in terms of sharing our trans love. So the Say Yes to the Dress people reached out to us online. Myles and I had been in several different campaigns. We worked with Miley Cyrus and the Happy Hippie Foundation and Instagram this summer. We were part of a campaign called #Instapride celebrating trans resilience. So our story was out there in the Twitter land, and they reached out and asked us if we were interested in sharing our story.
Were you concerned about how you might be portrayed?
No, I was confident. In terms of the preliminary conversation, they were extremely professional. I think Say Yes to the Dress: Atlanta was really excited to feature Myles' and I's beautiful trans love story, and that really came through really sincerely. The way that they show brides finding their dresses I think is in such a way that is not demeaning or demoralizing in any way.

Watching the episode, it doesn't seem like the show treats you any differently than it has any other woman who has appeared. Fair to say?
That's exactly how it went down. It was a bride looking for her bridal gown, looking for her moment. There was no difference, and I think that's such a great moment that I really want people to take out. Because we as trans people are just like everyone else: we have hopes, we have dreams, we have fears. As a trans woman, I am a person that has the same experiences as many other women out there. I was looking for a gown, and that's how I should be treated: as another woman who is looking for her moment.
RELATED: Transgender Model Geena Rocero Redefines Beauty
Let's talk about the dress. What did you go in looking for?
Something that was sweetheart-cut, trumpet, mermaid gown, and something tight-fitting. But when I came out in them and I saw myself, I said, "I have this in black. I have this in purple. I have this in green. This is a dress that I would wear to a gala that I would go to on Saturday night." You know, Myles and I attend lots of formal events, and that's my go-to in terms of fit. So that's what I thought I wanted, but what I actually wanted [was] something royal, something fit for a queen, something Dominique Deveraux, something Coming to America, something that kind of opens heaven's gates and stops the world.
Without giving anything away, were you ultimately surprised with what you ended up with?
The funny thing is I went in there saying that I didn't want a ball gown. I was thinking I wanted something more sexy, but a ballgown fits my personality of opulence, of grandeur. So I was surprised, but ultimately was like, "Oh yeah, this makes sense."
When's the wedding?
This summer in Chicago.
I think you say in the episode that 1,000 people are coming…
[Laughs] I think the exact number is 875 people.
Do you actually know 875 people?
Myles and I are trans figures in the community. I have lots of different networks. So in the beginning I was like, "I want to invite this person and this person and this person." But ultimately when the caterer says to you, it's going to be $150 a head, you start thinking a little bit different [Laughs].
Take a sneak peek at Davis' hunt for the perfect dress in this clip from Friday night's episode.
[jwplatform APQRo7DH]
Say Yes to the Dress: Atlanta, Friday, Jan. 15, 9/8c on TLC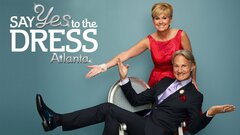 Powered by