Mark Hamill on What Drew Him to Netflix's 'The Dark Crystal: Age of Resistance'
Nearly 40 years after the late Jim Henson blew Muppet fans' minds with his wildly offbeat film The Dark Crystal, his daughter is heading back to the mythical land of Thra for a prequel.
"This is the proudest thing I've done since my siblings and I started running [our dad's] company," Lisa Henson tells TV Guide Magazine of the 10-episode series. And she should be proud.
Filled with startlingly expressive puppets and eye-popping production, the new tale is as enchanting as the original, with a young Gelfling named Rian (voiced by Taron Egerton) embarking on a hero's journey to stop Thra's leaders, the Skeksis, from harvesting the elf-like Gelflings' essences for their own gain.
Star Wars' Mark Hamill (also in Knightfall) pipes up as the Scientist, a Skeksi behind the plot — and it's a role that fits with his own memories of the film.
"I loved how daring it was [and] how dark it was," he admits. We always knew he'd give in to the Dark side!
The Dark Crystal: Age of Resistance, Series Premiere, Friday, August 30, Netflix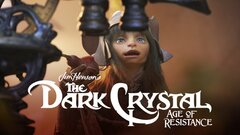 Powered by