Matthew Perry to Star as Ted Kennedy in Reelz's 'The Kennedys–After Camelot'
For his next TV role, Matthew Perry will tackle the late iconic Sen. Ted Kennedy.
Perry has signed on to star in Reelz's The Kennedys–After Camelot, which is being billed as a follow-up to the network's Emmy-nominated 2011 miniseries The Kennedys.
The actor, who is also an executive producer on the project, will be joined by Katie Holmes, who is reprising her The Kennedys role as Jacqueline Kennedy Onassis. Holmes is directing some of the hours, and is an executive producer as well.
The four-hour miniseries will shoot in Toronto this spring, with a premiere date eyed for spring 2017.
The Kennedys–After Camelot is based on the New York Times best-selling book "After Camelot: A Personal History of the Kennedy Family 1968 to the Present" by J. Randy Taraborrelli.
The miniseries picks up as Ted Kennedy (Perry) takes on the family mantle after the assassinations of brothers Jack and Bobby. As Jacqueline Kennedy Onassis, Holmes will focus on the former first lady's desire for privacy while becoming one of the most famous women in the world. The event will also look at the relationship between her and Ted Kennedy, which grew stronger over the years.
"We are privileged to have an actor of Matthew Perry's stature and ability take on the role of such a complex and controversial figure as Ted Kennedy," said executive producer Michael Prupas, whose Muse Entertainment is producing.
"As the Reelz brand has evolved to tell the real stories of celebrities' lives there's no bigger celebrity family than the Kennedys and we're proud to continue this amazing and dramatic story that began with The Kennedys miniseries," said Reelz CEO Stan E. Hubbard. "The Kennedys have inspired more movies, books, TV shows and documentaries than any other American family."
Perry has dabbled in drama in the past, including The West Wing, The Good Wife and The Ron Clark Story. He's currently appearing in "The End of Longing," a play on stage in London's West End. And Season 2 of his CBS sitcom The Odd Couple returns on April 7.
Stephen Kronish (The Kennedys) and Sandra Chwialkowska (Lost Girl) are writing the scripts, while Keri Selig (The Secret Life of Marilyn Monroe) and Jon Cassar (The Kennedys) are executive producers.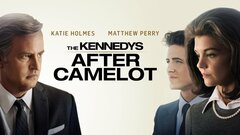 Powered by