Is 'Quantico's Claire Haas a Villain? Marcia Cross Shares Her Thoughts
Marcia Cross made a living playing larger-than-life characters on Melrose Place (crazy killer Kimberly Shaw) and Desperate Housewives (Martha Stewart wannabe Bree Van de Camp). But on the FBI thriller Quantico, the actress goes for strong and steely portraying Sen. Claire Haas, a candidate for U.S. vice president. We talked to Cross about her slightly more grounded role.
An ambitious politician who has a difficult relationship with her son, FBI trainee Caleb (Graham Rogers). Claire has all the hallmarks of a villain. Is she?
She is an ambitious woman, but I think of her as a hero who wants to save the country through political office.
Her husband, Deputy FBI Director Clayton (Mark Pellegrino), died in a bombing. Claire then learned he was sleeping with trainee Shelby (Johanna Braddy), Caleb's sometime girlfriend! Can she forgive Shelby?
Her husband could have taken care of himself. What she really holds against Shelby is what Shelby did to Caleb [by sleeping with Clayton].
The March 27 episode is big for Claire. What happens?
She's at the FBI academy speaking to the trainees when there's an armed attack on the campus. Her instinct, as a former FBI agent, is to protect others, but frustratingly, she's hustled off to a safe space.
Looking back at your Melrose Place role, were you shocked, as we all were, when you learned of the scene in which Kimberly removed her wig and revealed a bald, scarred head?
I was in a really dark place, mourning the death of my boyfriend [actor Richard Jordan]. I buried myself so deeply in my work that I had no clue until it aired that everyone would respond so strongly. That role really got me through a difficult part of my life.
Quantico, Sunday, March 27, 10/9c, ABC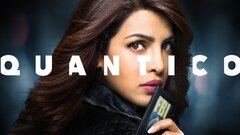 Powered by