'The 100' Sets Up a Shady Alliance (VIDEO)
City of Light? More like City of Lies.
In this exclusive clip from tomorrow's ep of The 100, Jaha (Isaiah Washington) lures Raven (Lindsey Morgan) even deeper into his plan to turn Arkadia into a breeding ground of converts. Apparently, he needs more folks to fall in line so that artificial intelligence hottie-slash-world destroyer Allie (Erica Cerra) can locate the second A.I. that her creator Becca escaped with before the Polaris space station went boom years ago.
RELATED: The 100's Showrunner Explains Why [Spoiler] Had to Die
Of course, there's something afoot. Jaha isn't fooling us with his strange devotion to Allie and this "no pain" pill she has him passing around camp. And since executive producer Jason Rothenberg told us last week that this plot is set to "become a big story," it's clear Jaha and Raven's conspiring is only going to get more nefarious. Especially now that they are eyeing up poor Jasper (Devon Bostick) as their new lackey. Like this kid hasn't had a rough enough time this season!
[jwplatform vuTIK325]
The 100 airs Thursday at 9/8c on The CW.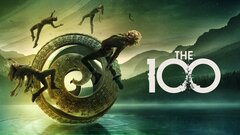 The 100
where to stream
Powered by